Softball splits rough doubleheader
The Eagles grab a win and a loss in rematch against CBU.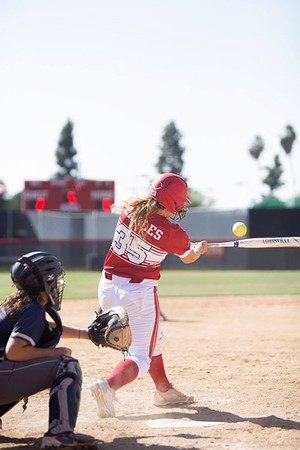 Softball took on a tough doubleheader against 12th-ranked California Baptist University Lancers in Riverside, Calif. on April 21. The first game ended with the Eagles winning in the 10th inning by a score of 2-0, but they fell short in a 3-2 battle in the second game.
EAGLES GRAB A WIN IN THE 10TH
In the first game, the Eagles struggled, not getting a hit until the fifth inning. They had a chance to score before the extra innings but fell short after freshman outfielder Ruth Munoz got thrown out at home plate in the sixth inning.  The game moved to extra innings which led the Eagles to finally score two runs on two hits in the 10th inning.
The game-winning rally began with freshman second baseman Kylie Velasco singling to left, allowing junior outfielder Karen Lieng to score the first run of the game. The Eagles scored later in the inning when sophomore catcher Kayla Neff singled to left field, scoring first baseman Missy Poti to give their team a 2-0 lead. Senior pitcher Terri Van Dagens recorded eight no-hit innings and a shutout of 10 innings, which had not been done for the Eagles since Reba Depriest and CeCe Luster did so in 2014.
LANCERS WALK OFF
The second game in the doubleheader continued the tight battle. Freshman pitcher Paige Austin allowed the Lancers to score one run in each of the first two innings. She allowed nine hits and walked three Lancers in her complete game performance. Her run support lacked, though, with the Eagles only scoring two runs to tie in the fourth inning.
Those runs came when Sherlin doubled to center field, scoring sophomore outfielders Haley Martinez and Jay Perez. The teams remained knotted at two until two outs in the bottom of the seventh inning, where an RBI single scored the winning run for the Lancers.
The games move the Eagles to 15-13 in the PacWest conference and 32-16 overall. They face a doubleheader at home against their archrival Azusa Pacific University Cougars on April 27 starting at 4 p.m.