Men's cross country wins NCCAA championship
Both Eagles squads end season strong with top honors.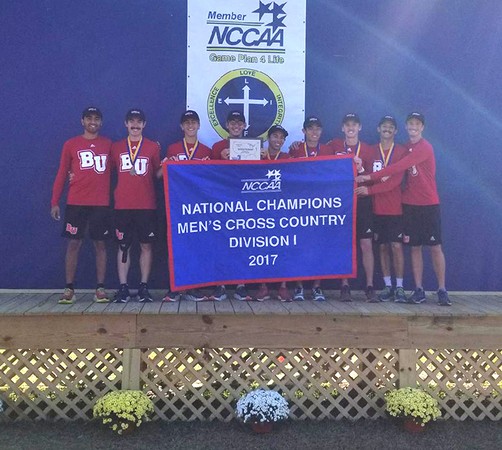 Men's and women's cross country competed in the National Christian College Athletic Association National Championships at Choctaw Trails in Clinton, Miss. on Nov. 11. Both men's and women's teams raced against 12 other teams in the event, hosted by Belhaven University.
MEN PLACE FIRST IN CHAMPIONSHIPS
The men competed in the 8k and scored 31 points as a team. The Eagles placed first to take the national title with an average time of 25:56.03 and total time of 2:09:40.15.
Sophomore Gabe Plendcio won the 8k in a time of 25:27.81. Plendcio's time proved 10 seconds faster than second place finisher Ethan Sullivan from Cedarville University. Plendcio is also the second Eagle to win a national championship in three years, as Kellian Hunt won the National Association of Intercollegiate Athletics women's cross country title in 2015. Freshman Giovanni Orellana placed fourth with a time of 25:44.05. Junior Ryan Thompson finished close to Orellana with a time of 25:44.15. Freshman Ryan St. Pierre placed ninth with a time of 26:12.39 and senior Timothy Wilson placed 12th with a time of 26:31.74.
WOMEN'S TEAM FACE STIFF COMPETITION
The women raced in the competitive 5k and placed second with 67 points overall. They finished with an average time of 18:35.71 and a total time of 1:32:58.54. Cedarville placed first with 55 points and an average time of 18:21.55.
The top runner, Alaina Spears from Cedarville, finished with a 17:28.27 time. Junior Hannah Hunsaker was the top placer for the Eagles, finishing in eighth with a time of 18:19.44. Not too far from her, senior Stephanie Croy placed 10th with a 18:25.37 time. Freshman Mackenna Mason finished in 14th with a time of 18:29.77. Junior Emily Ransom placed 16th with a time of 18:46.15 and sophomore Jessica Cody placed 19th with a 18:57.81 time.
Several runners recieved the NCCAA All-American honors award, including Plendcio, Orellana, Thompson, St. Pierre and Wilson for the 8k, and Hunsaker, Croy and Mason for the 5k race. Wilson, Cody, Croy, junior Elizabeth Pintarich and junior Kaili Waller all were awarded with NCCAA Scholar-Athlete honors.