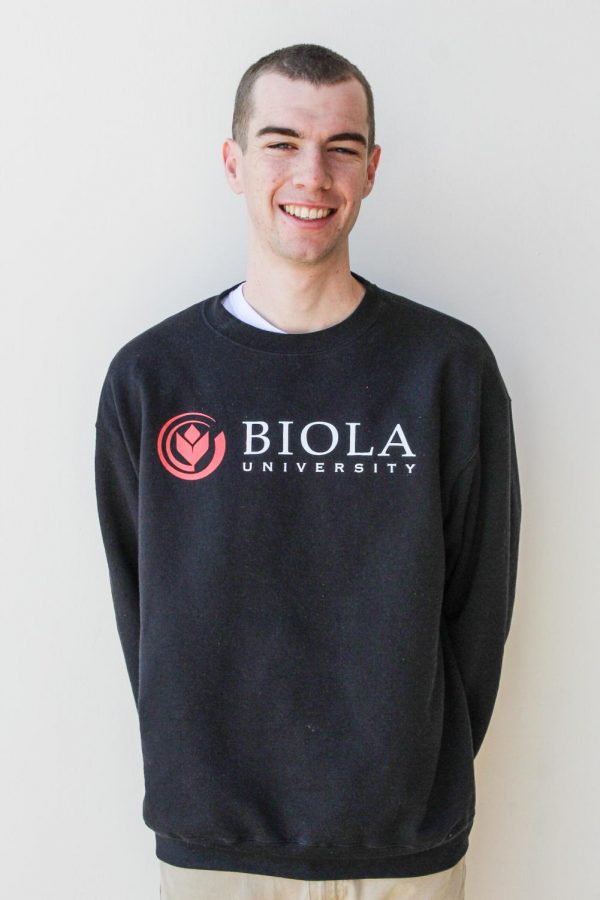 Zach Devane is a sophomore journalism major from Indio, California. He loves Jesus, the Los Angeles Lakers and will eat chicken in almost any form.
Hi! I am from Indio, California, home of the famous Coachella Valley Music and Arts Festival. I know it sounds like a dream come true to live so close to where all the excitement and chatter takes place, but I assure you that hundreds of thousands of people flooding your hometown for three weeks straight is more like a nightmare. Fun fact, I have lived in Indio for 17 of my 20 years of life and I have only been to Coachella once. 
The people I look up to most in my life are my parents. My father grew up playing basketball in Los Angeles and ever since I was a little kid he wanted to make sure that I would be a "BALLER!" (which he also called himself very often, and was just as often met with an eye-roll from my mother). 
Although I never made it to the NBA, my love for basketball, and sports in general, has never waned. I get excited to watch a game, hear sports talk on the radio, or even read/write an article about sports, even if I am a NARP.
I decided to combine my love for sports with a love for storytelling here at the Chimes. Sports in their nature are inspiring. They call for one to go beyond what they think is possible in order to achieve a goal, and when one does so, that story should be heard.  I want to tell these stories here at Biola and hopefully inspire a generation of students to reach for more.
Zachary Devane, Deputy Sports Editor
Sep 25, 2020

Virtual learning challenges students' spiritual formation

(Story)

Apr 29, 2020

From the editors: Life without sports—what do we do?

(Story)

Apr 13, 2020

Athletics appoints Torrey Stricklin as men's soccer head coach

(Story)

Mar 30, 2020

Men's basketball's best games of 2020

(Story)

Mar 11, 2020

Biola softball wins second doubleheader in Hawaii

(Story)

Mar 09, 2020

Men's basketball shines as runners-up at PacWest conference tournament

(Story)

Mar 01, 2020

Women's tennis wins fourth in a row

(Story)

Feb 28, 2020

Men's basketball prevails in last game of season

(Story)

Feb 25, 2020

Biola tennis claims victory against Hope International University

(Story)

Feb 22, 2020

Women's basketball on the rise as postseason approaches

(Story)

Feb 22, 2020

Men's basketball soars to win over Holy Names University

(Story)

Feb 20, 2020

Biola Athletics, ranked

(Story)

Feb 18, 2020

Women's tennis takes another tough loss

(Story)

Feb 15, 2020

Men's basketball gets huge win for postseason hopes

(Story)

Feb 15, 2020

Women's basketball loses to No. 1 in PacWest conference

(Story)

Feb 15, 2020

Track and field begins two-day meet at Westmont College

(Story)

Feb 13, 2020

Men's basketball misses out against Chaminade University of Honolulu

(Story)

Feb 08, 2020

Men's basketball slams Academy of Art University, 90-62

(Story)

Feb 08, 2020

Men's tennis narrowly misses out against University of California, San Diego

(Story)

Feb 07, 2020

Women's tennis bounces back in win over Lewis and Clark

(Story)

Feb 04, 2020

Men's tennis obliterates Westmont University

(Story)

Feb 02, 2020

Athletics "Week of Giving" raises over $43,000

(Story)

Feb 01, 2020

Men's basketball fell short in high-intensity Cornerstone Cup

(Story)

Feb 01, 2020

Softball drops both games in double-header

(Story)

Jan 29, 2020

Women's basketball closes out Point Loma Nazarene University

(Story)

Jan 27, 2020

Biola Athletics kicks off inaugural "Week of Giving"

(Story)

Jan 25, 2020

Swim and dive celebrates senior night during meet against Concordia University Irvine

(Story)

Jan 25, 2020

Men's basketball cruises to home victory over Dominican

(Story)

Jan 18, 2020

Men's and women's swim and dive earn second and third-place finishes

(Story)

Dec 10, 2019

Men's basketball wins seventh game in a row

(Story)

Dec 07, 2019

Men's basketball wins thriller against Dominican, 65-64

(Story)

Dec 05, 2019

Men's basketball beats Notre Dame de Namur to extend win streak to five

(Story)

Dec 05, 2019

Women's basketball gets first conference win over Notre Dame de Namur

(Story)

Nov 23, 2019

Men's basketball crushes Fort Kent, 104-53

(Story)

Nov 19, 2019

Men's basketball cruises to 94-79 win over La Sierra

(Story)

Nov 10, 2019

Women's Volleyball loses at home to APU

(Story)

Nov 07, 2019

Women's soccer takes back-to-back losses

(Story)

Nov 05, 2019

Women's soccer's nine-game win streak broken by APU

(Story)

Nov 02, 2019

Women's swimming and diving wins big against rivals APU

(Story)

Oct 30, 2019

Women's golf places fourth in the Dennis Rose Intercollegiate

(Story)