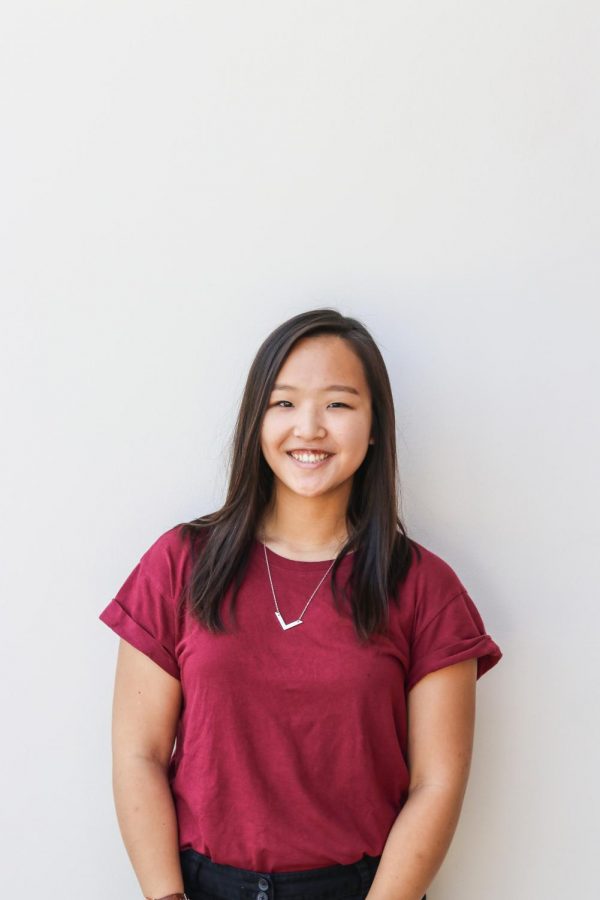 Brittany Ung is a sophomore journalism major who loves fine point pens and could easily beat you in a tangerine eating contest.
[email protected]
Hi! I'm a journalism major from the Bay Area, home of Google, Tom Hanks and probably the most (or at least the best) boba shops per capita in the nation. I grew up doing competitive speech and debate — I competed in my first tournament when I was just 12 years old, advocating for the privatization of the United States Postal Service. Diving into the study of public policy taught me that I love learning about people and how we react to the things we're confronted with. Right now I'm picking up as much as I can about how we blueprint the world we live in, through industrial design and city planning. When my brain is too full to learn anything else, I'll play card games, practice cooking or re-read my favorite children's books. 
I'm following in the steps of my mom (and homeschool teacher), herself a former news director and radio broadcaster. We're almost opposites when it comes to personality, but we share a love for synonyms, Century Gothic and learning new things. As news editor this year, I'm excited to jump headfirst into our unique community and find out more about the people and places and ideas that make it tick.
Brittany Ung, Editor-in-Chief (Spring 2020)
Mar 17, 2020

Biola to vacate housing, close campus to visitors

(Story)

Mar 11, 2020

Coronavirus concerns prompt chapel changes

(Story)

Feb 25, 2020

Biola launches Biola LaunchPad

(Story)

Feb 22, 2020

President Corey calls for prayer after student hospitalized in car accident

(Story)

Feb 12, 2020

Godwin/Ferguson elected SGA president and vice president

(Story)

Dec 13, 2019

The controversy behind Biola's new consulting firm, explained

(Story)

Dec 10, 2019

Crime Log — Dec. 3 – Dec. 10

(Story)

Dec 09, 2019

Biola ends youth academics programs

(Story)

Dec 05, 2019

Here's why Deck the Haven isn't happening this year

(Story)

Nov 24, 2019

Symphony Orchestra draws community to concert

(Story)

Nov 15, 2019

Film school receives grant for new computer lab

(Story)

Nov 12, 2019

Crime Log — Nov. 5 – Nov. 12

(Story)

Nov 05, 2019

Pre-law club begins proceedings

(Story)

Nov 01, 2019

Library introduces text message notices

(Story)

Oct 31, 2019

LASD arrests man who crashed car into creek near La Mirada entrance

(Story)

Oct 31, 2019

Former pop star moonwalks for missions

(Story)

Oct 29, 2019

Random Acts of Culture returns for the fall

(Story)

Oct 28, 2019

Fires continue to rage throughout Los Angeles County

(Story)

Oct 22, 2019

Career Center hosts 70 employers for Career Expo

(Story)

Oct 21, 2019

Fire watch in place for Southern California cities

(Story)

Oct 17, 2019

Biola hosts the 2019 Southern California Great Shakeout

(Story)

Oct 09, 2019

Torrey Conference takes off with exploration of "Incarnate"

(Story)

Oct 04, 2019

Finance department restructures to alleviate financial burden for students

(Story)

Oct 03, 2019

Student Development addresses rising mental health concerns

(Story)

Oct 03, 2019

An unexpected loss for anthropology majors

(Story)

Sep 30, 2019

Man threatened woman with knife at Rosebeach Apartments, LASD says

(Story)

Sep 26, 2019

Business competition kickstarts entrepreneurship minor

(Story)

Sep 21, 2019

Hong Kong protests hit home for Biola community

(Story)

Sep 13, 2019

New chapel theme 'With' addresses social media induced anxiety

(Story)

Sep 09, 2019

Construction on La Mirada and Rosecrans delayed, city says

(Story)

Sep 07, 2019

Graduate who covered last week's Midland and Odessa shooting: 'You're not alone in this'

(Story)

May 02, 2019

School of Science, Technology and Health says farewell to dean Paul Ferguson

(Story)

Apr 12, 2019

Communication class leads sexual assault awareness week

(Story)

Apr 05, 2019

The Force awakens with Men of Honor for Mock Rock 2019

(Story)

Apr 02, 2019

Crime Log — March 25 – April 2

(Story)

Mar 26, 2019

Crime Log — March 19 – March 24

(Story)

Mar 22, 2019

Missions Conference 2019 continues

(Story)

Mar 14, 2019

Brewing a better fundraiser

(Story)

Feb 25, 2019

EXCLUSIVE: Housefires to lead worship at 2019 Missions Conference

(Story)

Feb 23, 2019

Campus Safety refines its emergency medical responses

(Story)

Feb 13, 2019

Carly Micheal wins SMU presidency

(Story)

Feb 08, 2019

Meet your 2019-2020 senatorial candidates

(Story)

Jan 28, 2019

Caf extends dining hours

(Story)

Dec 01, 2018

Biola adds fundraiser to tree lighting tradition

(Story)

Nov 19, 2018

Biola community processes California blazes

(Story)