Graduate who covered last week's Midland and Odessa shooting: 'You're not alone in this'
Clarke Finney reveals how Biola prepared her to support the West Texas community under attack.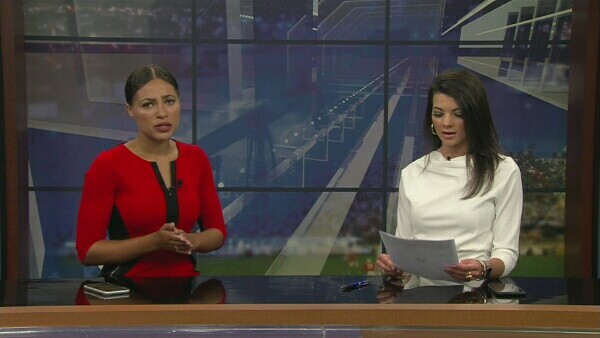 Last Saturday, a truck driver was fired from his job. A couple hours later, he was driving down the highway in Odessa and Midland, Texas with an AR-15 style rifle, in a shooting spree that killed seven and injured 22, the New York Times reported.
Clarke Finney, a 2017 graduate of the journalism program, is a morning anchor for Big 2 News, an ABC affiliate in West Texas where the shooting occurred. She spent hours reporting on the Odessa shooting, and remembers exactly when she first heard about the deadly attack.
FIRST RESPONSE
Finney was at home with her boyfriend when she received a call from a friend. "Stay inside. There's multiple shooters in the area," her friend warned. 
"I didn't think it was real," Finney said in a phone interview. "We always want to check the facts first. So even if people are freaking out, sending us emails and messages, photos, we confirm that information first and foremost." 
So she followed up on the call, confirming it with her assignment editor and then her boyfriend, a first responder. His phone was already beginning to glow with notifications of 911 calls from shooting victims.
 "This time everything was lighting up," she said. "And it was saying every single fire station at once was being dispatched to a shooting victim. And his phone was just red."
A few minutes later, she got a call from her station. They needed her on air. Her station confirmed a few details with local police and other sources, then Finney says she flipped her hair back, put on some makeup and went live with the station's evening anchor, not knowing what she would say or how long she would be on the air. 
"There's no script," she explained. "Basic information would have to get confirmed in bullet points. And I had to just go on air… Prompter goes on and we broke in and said, 'Breaking news: there were reports of a mass shooting.'"
EL PASO SHOOTING FEARS LINGER
Finney says her community was still shaken from the El Paso shooting that occurred just four weeks earlier, when a shooter in a Walmart left 22 dead and 24 wounded, according to the Wall Street Journal. But the Odessa shooter was mobile, firing from a hijacked mail car on the highway and creating the impression of a sudden onslaught of shootings in the area—15 different locations in total.  
"I had called my parents and told them I loved them," she noted, "because I thought, you know, there's a random, like, multiple shooters, shooting people at the same time in different areas. Maybe like organized crime, like maybe gang activity or a terrorist attack."
 Due to the mobile nature of the crime, local news agencies had difficulty pinning down details. The Odessa police department had announced that they would release information via a press conference, but only in about an hour. 
"So we have to fill time with what we know and ad-lib and make sure we're getting information correct," she said. "So we have a producer and people in production in the control room getting information, people on our newsroom confirming stuff literally just in our ICs, in our earpieces telling us information as we go, no scripts, just going." 
NON-STOP REPORTING
 Finney is usually a morning anchor. She describes herself as happy and bubbly, the face West Texas sees before starting the day. 
"But this wasn't a morning anchor situation," she said. "This was, 'Okay, we're getting this information out potentially for your survival because there could be another suspect out there still shooting and killing people and we have no idea.'"
Finney and her co-anchor sat at the desk commenting on whatever the station put in front of them: eyewitness cellphone footage and raw, unscreened 911 calls. But as she spoke to a community in crisis, Finney said she felt more adrenaline than fear—and a responsibility to get the facts right. 
"The adrenaline was definitely rushing, but at the end of the day we have a job to do," she said. "So there wasn't really any nervousness or anything. It was more me waiting for information and presenting it in a way that people could understand, and like keeping my cool so people at home were confident in keeping their cool."
Finney anchored for two hours straight before going to the local hospital to film live coverage.
The situation soon drew attention from city, state and even federal officials: Texas Gov. Greg Abbott, Rep. Brooks Landgraf (R-Odessa) and even President Donald Trump commented on the situation. National news outlets picked up the story, and Finney's coverage traveled across the nation.
THE DUST SETTLES
Local police finally chased the shooter to a movie theater where he was shot and killed. Then, after a full night of coverage, Odessa's morning anchor went home.
"The dust settled and I just slept. After the shows, I was exhausted," she recalled. "After hearing the sixth 911 call I just hit my breaking point, got choked up, got vulnerable on air… But today was just more exhausting, that tiredness is just numbing."
 Finney's station is beginning to move back into its regular reporting schedule, but she indicated that coverage of the situation is not over. FBI investigators, department heads and national news outlets have trekked out to Odessa, holding press conferences and revealing more information about the massacre. They're still searching for answers, but Finney says the process is beginning to take a more structured and scheduled form, at least compared to Saturday night's hazy coverage.
And there are phases after a mass shooting, something Finney says she has learned from journalists who have covered them nationally. First is the phase of shock and grief. Then the community will rally together, starting fundraisers and donating to victims and their families.
"But then when you start talking about gun violence," Finney said. "When you have an FBI director say, 'The weapon used was an AR rifle,' people lose it and go, 'Okay, well now it's going to get political. Now it's gun control."
COMMUNITY REHABILITATION
In the days that follow a tragedy like Odessa's, Finney says plenty of news outlets can be found in hospitals trying to catch a bedside interview. The Tuesday after the shooting, she went to the hospital too—not as a journalist but as a friend. Instead of a camera, she brought flowers and visited five of the victims. 
"They had a different look in their eyes," Finney said. "And that was different because most times I'm on the other side of the camera, people letting us into their homes, but in that moment I was holding the hand of someone who almost died. Who is in the process of physical recovery, but they will never be the same."
Finney says her life has changed as well. She says when she visited the hospital, everything began to connect. 
"That's when it became real for me," she said. "When I saw these people and I just went in and I said, 'I want you to know I'm praying for you. And I love you and you're not alone in this.'"
FAITH FOUNDATIONS
On Labor Day, Finney went back to work as Odessa's morning personality. She recalls sensing a need to restore hope to her community, one still shrouded in fear. As a graduate from a university whose values are summarized in the words truth, transformation and testimony, Finney says the words of encouragement came naturally.
"It's funny because I said, 'You should be courageous and kind to people and love one another and don't let fear keep you from going outside and still enjoying life,'" Finney said. "Those are all biblical. The way that it came out was so natural, like yeah of course, let's be positive. But underlying, that's like a biblical command. It's interesting how truth reveals itself. I mean, if it's true it's true." 
Finney talked about a value framework that was established in her senior year, in an ethics class taught by professor of journalism Michael Longinow. 
"Morals and ethics, that was probably the most important thing that I learned," she said. "That ethics class, that set the foundation for how I choose to do my job." 
She found herself at that very intersection of faith, education and career at the hospital on Tuesday. 
"Having that moment and being able to give hugs and to pray, that's the foundation that instructors and everyone talks about at the school," Finney said. "Because, yeah, we get the story we do our job but at the same time we go out and be like, 'Can I pray for you?' and just do it. And be done. And that's what my purpose is, I think."