Caf extends dining hours
The coffee cart's closure helped Bon Appetit grant student requests for later Caf closing times.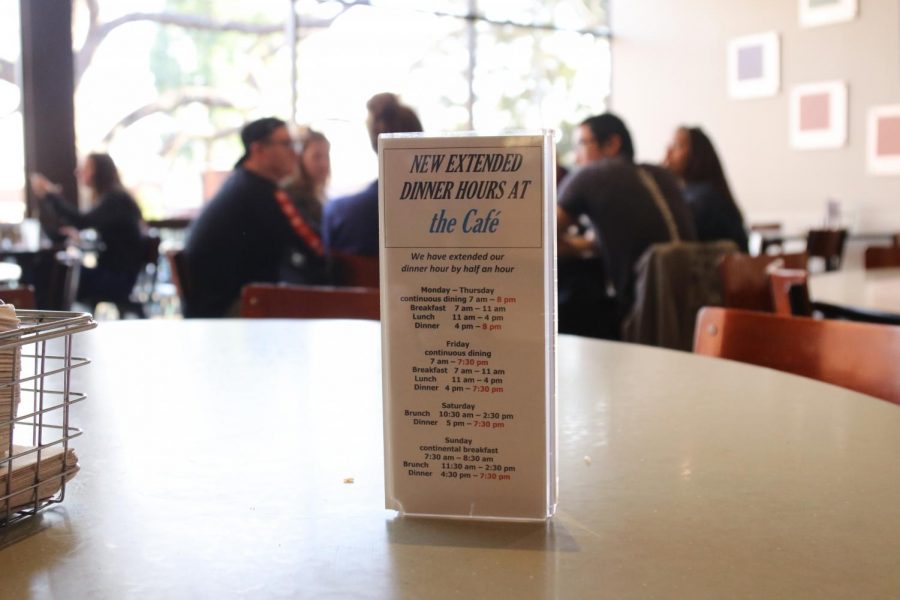 In a win for late night snackers and chronic pro-caf-tinators, the Caf has extended its dining hours by a half-hour each night. The Caf now closes at 8 p.m. on Monday through Thursday, and at 7:30 p.m. on Friday through Sunday.
STUDENT REQUESTS ARE HEARD
Bon Appétit's general manager Steve Rall said the change was driven by student demand.
"[In] the dining survey, kids say 'more hours. Hours hours hours hours.' They're not going to be happy until it's 24/7," Rall said.
While the Caf is still far from all-day dining, the extra half-hour makes a difference to some students. The Caf's previous dinner time used to conflict with some Torrey Honors Institute classes, which occur from 4 to 7:30 p.m.
"The number one comment for the extended dining hours: a Torrey class would get out at 7:30 [p.m.]," Rall said. "Those kids would say they have to rush here, and if they stop and talk to anybody they weren't getting in."
From a budgetary standpoint, Rall says the extended dining hours will not increase costs. Due to waning sales, Biola's coffee cart will no longer be available, so the cost of that labor will instead shift to the Caf for its new hours.
"The coffee cart labor will pay for the students' extended dining, and it's not going to cost anybody anything," Rall said. "Affordability is very important, not to increase costs, [but] how to do stuff within your budget and give more services is the challenge. And it is challenging, but [with] creative thinking, things can happen."
About the Writer
Brittany Ung, Editor-in-Chief (Spring 2020)
Brittany Ung is a sophomore journalism major who loves fine point pens and could easily beat you in a tangerine eating contest.

[email protected]



Hi! I'm a journalism major from the Bay Area, home of Google, Tom Hanks and probably the most (or at least the best) boba shops per capita in the nation. I grew up doing competitive speech and debate — I competed in my first tournament when I was just 12 years old, advocating for the privatization of the United States Postal...