School of Science, Technology and Health says farewell to dean Paul Ferguson
As the semester comes to a close, the school begins its search for new leadership.
When dean of Science, Technology and Health Paul Ferguson joined Biola in 2016, the School of Science, Technology and Health was nonexistent and the Alton and Lydia Lim Center for Science, Technology and Health was just a plot of land. Under Ferguson's direction, both projects have become a home to hundreds of STEM students—but after three years, the school's founding dean is moving on.
Ferguson announced his departure from Biola on April 10, and will begin serving as the president of Azusa Pacific University starting June 1, 2019.
"[I have] always appreciated the entrepreneurial growth of APU as a very fine Christian university, and so now I get to really enjoy finding out where they are today and engaging with them in a new direction," Ferguson said. "So I think I've watched them from afar and always been impressed by the quality of their programs, breadth of their academics, talent of their faculty. I think that's what attracted me [to APU]. Their really strong commitment to serving Christ in a post-Christian world."
Ferguson says he has already begun splitting his time between the two universities to transition into his new role.
"So we're looking forward to establishing a new strategic planning process at APU that we're talking quite a bit about," Ferguson said. "So I think [the] early stages of any new presidency is building relationships and building direction and confidence in that direction."
Ferguson enters his office at APU with prior presidential experience, having served as president of the University of Maine and Ball State University, respectively, before founding the School of Science, Technology and Health at Biola.
"Having spent most of my career in secular or public higher education, it's been a wonderful three years to focus on Christian higher education," Ferguson said. "I am committed to seeking the best way to build Christ-centered academic excellence. That's what we do at Biola at the School of Science, Technology and Health, and that's what we aim to do at APU."
SEARCH FOR A NEW DEAN
According to provost and senior vice president Deborah Taylor, Biola will soon begin a national search for the School of Science, Technology and Health's new dean. The university usually hires a search firm that specializes in higher education executive leadership, which will present a list of 100 to 120 interested candidates. Biola's leadership will conduct follow-up research on the top 30 candidates, then video conference with the top eight to 10 candidates. Finally, the school will choose three prospects and bring them to campus to engage with the community.
"So we'll be going through that process next year," Taylor said. "And praying a lot that God brings us someone who is the right person to take things forward for the next five to 10 years."
THE FERGUSON MIRACLE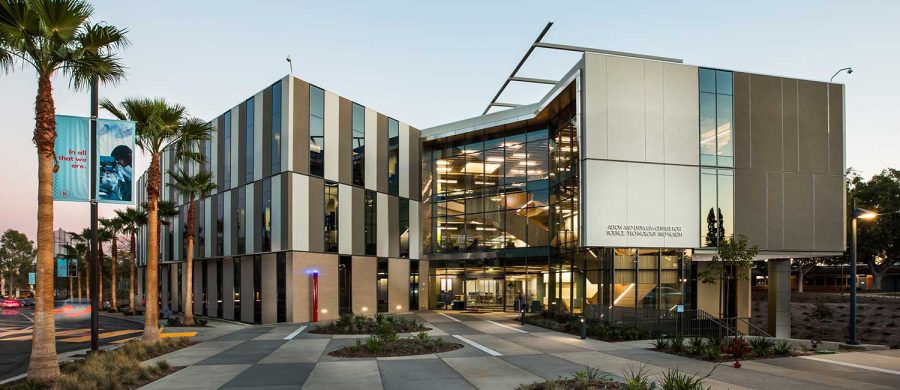 After joining the university in 2016, Ferguson managed the School of Science, Technology and Health's migration into the Lim Center, which opened in January 2018.
According to Taylor, Ferguson blueprinted the university's approach to STEM research, establishing a five-year strategic plan for STEM education that includes initiatives to launch new majors, acquire equipment and hire faculty.  
"I always have called it 'the Ferguson miracle,' because we were praying for just the right person to come and breathe life into our sciences, cast a big vision, put together a compelling strategic plan, be able to get funding and move in to that building with a lot of energy," Taylor said. "And he was like beyond what I ever asked God to give us and just did it capably and well. And so, he himself, as a person, will never be replaced."
Chair of communication sciences and disorders Matthew Rouse describes Ferguson's three years at Biola as being marked by collaborative research and communication between students, faculty and deans.
"[I] saw him build the personnel infrastructure of this school, which is extremely inclusive," Rouse said. "There's a student advisory board, where students can speak straight to the dean about issues they might have that are related to the school. There's several faculty advisory committees, leadership committees that speak directly to the dean and so communication flows down from the dean but also flows up from faculty and staff."
INTERIM LEADERSHIP
As the spring semester comes to a close, the school is beginning its transition to interim leadership.
Rouse has been chosen as the school's interim dean, starting May 13. He expressed a desire to maintain the momentum from the past three years by continuing the work Ferguson has already established.
"We're definitely gonna be open to ideas about new programs and things like that, but my main focus will be trying carry out the strategic plan, keep pushing it forward," Rouse said. "That's kind of the plan. I don't really have to dream up new plans because Dr. Ferguson has the strategic plan which we're kind of in the middle of."
As the school finishes year two of their five-year strategic plan, Taylor believes Ferguson has prepared the leadership well for his departure.
"We don't feel like, 'Oh no, it's too soon, what will we do without him?' No, we know exactly what we're supposed to do without him because he's empowered us to do that and he's equipped us and he's mentored us and he's invested in us," Taylor said.
Julianna Hernandez contributed to this story.