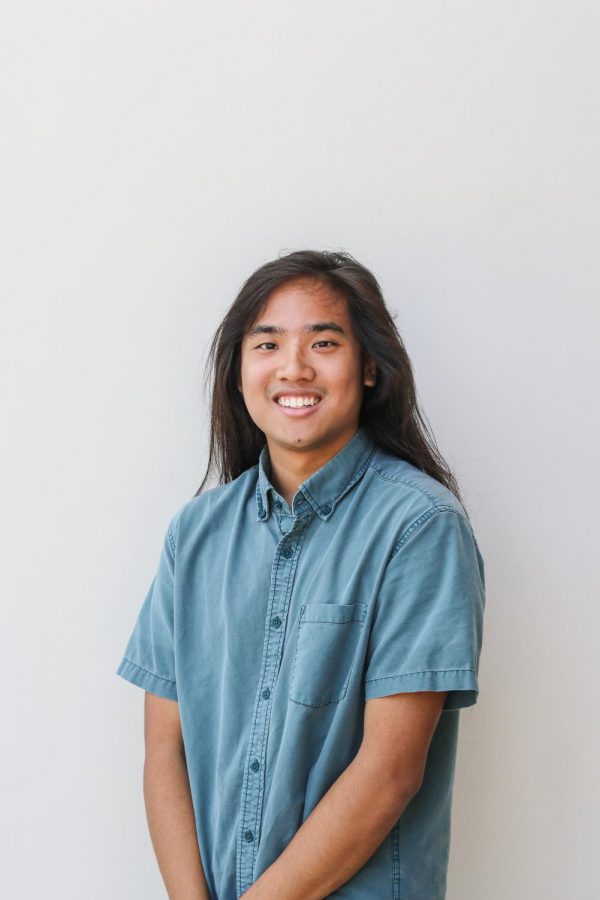 Pierce Singgih is a senior journalism major who keeps postponing graduation. When he's not writing or editing, he can be found watching a Noah Baumbach film or drinking coffee.
[email protected]
I transferred to Biola as a biology major in 2017. You read that right. I wanted to be a doctor. After a semester here, and a few semesters of biology at community college, I realized I had zero desire to pursue a career in medicine. With no direction and little experience writing, I took a leap of faith into journalism. Now, after two years in the program, a few internships and my time with the Chimes, I've fallen in love with storytelling. 
At its core, journalism is the voice of the community. Journalists provide a voice to the voiceless, standing up for those can't stand up for themselves. I love representing a community and its people, bringing their voice to life in order to make real change. 
Last summer, I interned for the Los Angeles Daily News where I did just that. I submerged myself in the San Fernando Valley –– a Los Angeles community –– covering breaking news, crime, elections and homelessness, among other issues. I also contribute to Film School Rejects, an online entertainment publication where I've covered the Los Angeles Film Festival and have certified film reviews on Rotten Tomatoes. 
Now, I'm excited to follow in the footsteps of Editors-in-Chief before me and lead the Chimes into a new era of journalistic excellence.
Pierce Singgih, Editor-in-Chief (Fall 2019)
Dec 13, 2019

The controversy behind Biola's new consulting firm, explained

(Story)

Nov 13, 2019

Power returns to campus

(Story)

Oct 30, 2019

Second Fullerton fire in a day burns 15 acres

(Story)

Oct 30, 2019

Fullerton Fire under control after burning less than two acres, police say

(Story)

Oct 17, 2019

Biola hosts the 2019 Southern California Great Shakeout

(Story)

Oct 15, 2019

La Habra student arrested for bringing gun onto high school campus

(Story)

Sep 30, 2019

Man threatened woman with knife at Rosebeach Apartments, LASD says

(Story)

May 03, 2019

Removal of art student's pentagram stirs up controversy on campus

(Story)

Apr 25, 2019

Colony House and The Burrows rock the Eddy

(Story)

Apr 25, 2019

Rebel with a cause

(Story)

Mar 21, 2019

This Ben Affleck watchlist bats a thousand

(Story)

Mar 14, 2019

Fever Joy calls the shots

(Story)

Mar 11, 2019

Dear Professor Simon: "Swords and Words"

(Story)

Feb 18, 2019

John Mark McMillan serenades campus

(Story)

Jan 29, 2019

Spring 2019 theater preview

(Story)

Dec 15, 2018

The Chimes' Christmas movie watchlist

(Story)

Dec 10, 2018

That time we… went to a migrant caravan encampment in Tijuana

(Story)

Dec 03, 2018

Analysis: Indonesian students find second home

(Story)

Nov 20, 2018

Campus Safety, LASD release man suspected of attempting to bring gun onto campus

(Story)

Nov 16, 2018

Student rappers put the soul in Sola Soul

(Story)

Nov 10, 2018

Nov. 10 weekend movie preview

(Story)

Oct 22, 2018

For All Seasons comes home

(Story)

Oct 17, 2018

Walk for Freedom seeks to bring awareness to human trafficking

(Story)

Oct 09, 2018

Budding actors prepare for the professional world

(Story)

Oct 04, 2018

Angel Ramirez and BrowderSister rock the Eddy with heartbreaking blues and upbeat rock 'n' soul

(Story)

Sep 29, 2018

"The Predator" Review: skip this clichéd, boring excuse for entertainment

(Story)

Sep 22, 2018

Joaquin Phoenix's Joker is what DC needs for revival

(Story)

Sep 17, 2018

Take a day off from schoolwork at the LA County Fair

(Story)

Sep 15, 2018

Watch it before it's gone: "Crazy Rich Asians" and "Searching"

(Story)

Apr 23, 2018

Watch these movies this summer

(Story)

Apr 23, 2018

Top 10 Marvel Cinematic Universe Films

(Story)

Apr 17, 2018

Conservatory students showcase talents

(Story)

Apr 11, 2018

The essentials of the revolutionary Steven Spielberg

(Story)

Apr 04, 2018

"Metamorphoses" dives deep

(Story)

Mar 28, 2018

"Isle of Dogs" provides blissful entertainment but falls victim to cultural appropriation

(Story)

Mar 21, 2018

"Tomb Raider" provides an all too familiar adventure

(Story)

Mar 14, 2018

The misrepresentation and underrepresentation of Asians in film

(Story)

Mar 06, 2018

"Annihilation" provides a haunting introspection

(Story)

Jan 31, 2018

"Hostiles" provides an inner look at the hostility of humanity

(Story)

Jan 22, 2018

Director Zachary Bortot challenges Biola actors with unique methods of acting

(Story)

Nov 28, 2017

Family fun film to skip

(Story)