Watch it before it's gone: "Crazy Rich Asians" and "Searching"
Check these two films out before they leave theaters.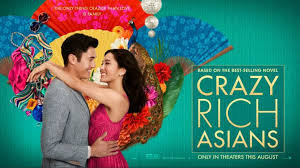 Editor's note: "Watch it before it's gone" is a column dedicated to presenting the best films in theaters before they leave.
CRAZY RICH ASIANS
A month ago, "Crazy Rich Asians" hit theaters to financial and critical success. As its reign at the box office slows down, it is more important now, more than ever, that everyone go see this monumental film. "Crazy Rich Asians" is the first film in 25 years to feature an all-Asian cast, presenting a beautiful love story about a girl graduating into womanhood. This film hits every rom-com note. It is funny, charming and, most importantly, authentic. Starring Constance Wu as Rachel Chu, Henry Goulding as Nick Young and Michelle Yeoh as Eleanor Sung-Young, the film brilliantly displays beautiful culture hardly seen in Hollywood.
Representation in film comes in many different ways. Audiences can feel represented by seeing their different personality, values or even race on screen and that is always special. Hopefully, this milestone of diversity encourages Hollywood to represent more unique voices and backgrounds, allowing more people to feel special. Be sure to check out "Crazy Rich Asians" before it leaves theaters.  
SEARCHING
Starring John Cho as David and alumna Michelle La as Margot, "Searching" follows a dire father's quest to find his missing daughter through the internet. Most of the film takes place from a desktop perspective, presenting the film using webcams, GoPros and iPhones. This desktop perspective is incredibly unique and brings a refreshing take to the thriller genre. Full of twists and turns, "Searching" is exciting throughout, always keeping you on the edge of your seat. Films like this don't come around often, so be sure to check it out before it leaves the big screen.