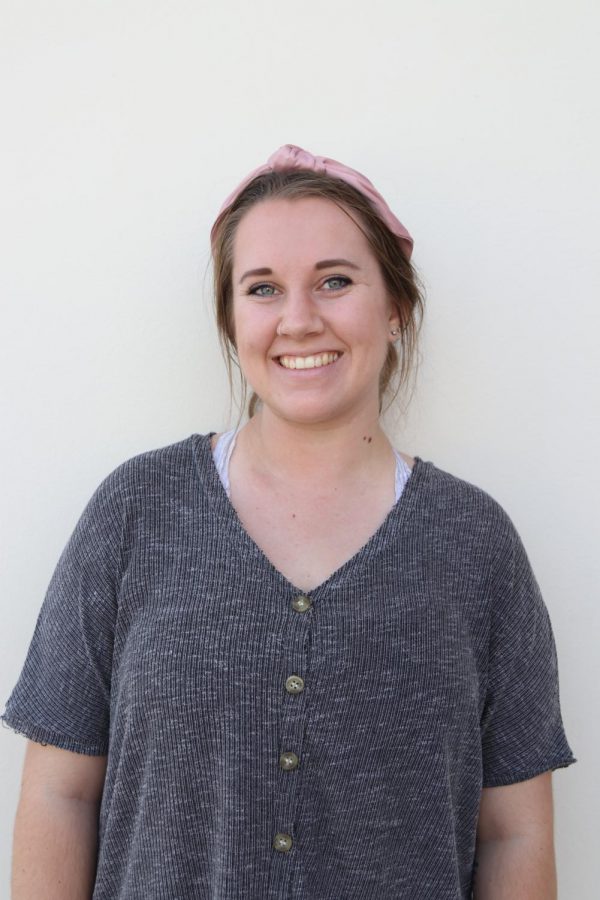 Macie Cummings is a senior journalism major on a mission to find the best iced vanilla latte. She is passionate about all things Disney, the Dodgers, and the Office.
[email protected]
Four years ago, I never would have thought my Biola experience would turn out the way that it did. I am from the small town of Visalia, California, and if you don't know where that is, just picture cows in the middle of the Central Valley and you're there. I am the oldest of three girls, and we are incredibly close. However, I was ecstatic about the opportunity to move down to Southern California. The fact that I would only be living nine miles away from Disneyland may have been a key factor when choosing a school.
While wrapping up my senior year of high school, I was confident in my decision to become an elementary school teacher. At some point that summer, I had an epiphany: I did not want to be in school for the rest of my life. I decided to take a huge risk and apply for Biola's film program. After a year of only taking general education courses, I found out I had been accepted, only to go and switch my major yet again.
The journalism program sparked my interest, when I realized that film was not for me. I have a passion for creating videos, so I chose an emphasis in broadcast journalism. After a semester of broadcast classes, and a lot of prayer, I decided to switch my emphasis to visual media, which is where I've planted myself. I have learned that I thoroughly enjoy many different aspects of the journalism and content creation industry, so this seemed like the best fit.
I am looking forward to my year as a news editor for the Chimes, and the opportunity to grow in my writing and storytelling abilities. I know this year will be a year of learning and growth, and I cannot think of a better way to spend my last year at Biola.
Macie Cummings, News Editor (Fall 2018)
Apr 11, 2019

Baseball rallies late for a walk-off

(Story)

Dec 07, 2018

Deck the Haven brings cheer in the rain

(Story)

Dec 04, 2018

Event creates place for unity in the middle of the gender role debate

(Story)

Nov 20, 2018

Students report troubles with housing rental service

(Story)

Oct 25, 2018

SGA hosts "One-Sided: A wake up call to our own insecurities"

(Story)

Oct 22, 2018

New 'Jesus Saves' banner replaces one ripped by windstorm

(Story)

Oct 22, 2018

Intramural center construction scheduled to begin next semester

(Story)

Oct 12, 2018

Biola reaffirms LGBT policy after controversy at Azusa Pacific

(Story)

Oct 12, 2018

Day two of 'Kingdom' proves just as full as the first

(Story)

Oct 09, 2018

Women rise up in student leadership across Biola

(Story)

Oct 04, 2018

Campus Safety alerts students after 'transient activity' at Biola

(Story)

Oct 03, 2018

A new Evening with the Stars

(Story)

Sep 28, 2018

Caf banquet hall renamed to honor Korean evangelist

(Story)

Sep 28, 2018

The little dorm that could: Blackstone wins Nationball 2018

(Story)

Sep 25, 2018

Calvary Chapel renovations connect abstract art and worship

(Story)

Sep 24, 2018

The Bird House: a new perspective on community living

(Story)

Sep 14, 2018

Study Abroad Fair showcases a different Biola experience

(Story)

Sep 10, 2018

Campus Safety officer honored nationally for saving life on campus

(Story)

Sep 07, 2018

Calvary Chapel dedication ceremony focuses on the rebirth of a sacred space

(Story)

Sep 03, 2018

La Mirada residents feel effects of Tuesday earthquake

(Story)

Dec 06, 2017

Caf begins new food donation initiative

(Story)

Nov 29, 2017

Christian Clubbing: Hula club dances during chapel

(Story)