The little dorm that could: Blackstone wins Nationball 2018
The newest dorm on campus came out on top for the first time as they beat Horton in the championship round.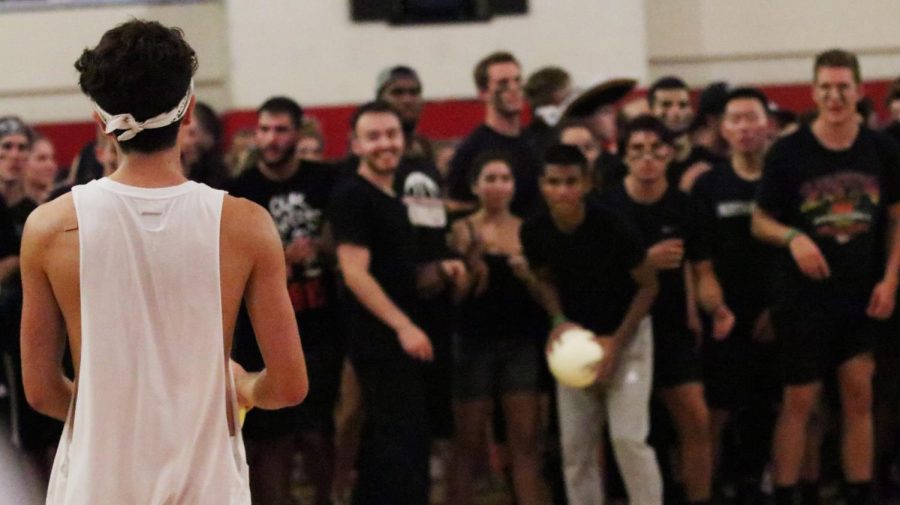 Amid deafening noise inside Chase Gymnasium, Blackstone Hall won the Nationball championship for the first time. Horton Hall faced Blackstone in an intense 10-minute final round of dodgeball before the referees declared the northernmost dorm on campus the 2018 winners. As the white-clad Blackstone residents shouted their victory throughout the gym, students both supported and envied the campus underdogs.
Students from Blackstone expressed their pride as well as some shock at their win.
"I cannot actually believe it. We were all commenting how we weren't sure how we were gonna do, since we were so small, but I don't know, I think Blackstone really represented tonight," said senior theater major Reagan Smalley.
She added, "I'm gonna have to do something, 'cause I can't believe it—Blackstone has now won! The entire time I've been at Biola and yet my senior year we take the championship."
Junior business major Jasper Jiang has long awaited this victory.
"I've waited for three years. Three freaking years," he said.
Despite their small numbers, Blackstone brought plenty of passion to the game.
"I just feel so blessed to be a part of this dorm. You know, small rooms, big hearts, Blackstone," said junior communication sciences and disorders major Gabrielle Edwards.
Although Horton came close, victory slipped through their fingers in the final round.
"We did great. Just-luck of the draw," said freshman communication science major and Horton resident Kate Faulkner.
Round by round recap
The event kicked off with a bang as the brackets were chosen with a new twist. Emcees popped black balloons filled with colored powder to determine that the Off Campus Community team would get a bye in the first round. The combined team of Stewart and Hart—StewHart—battled Sigma Hall and came out with the first win.
"I'm feelin like a million bucks, baby," said senior cinema and media arts major Mark Wilder. "Go Hart!"
Round two pitted Blackstone against Hope Hall and Blackstone came out on top with the upset over the two-time defending champions.
"It was good," said junior business administration major and Hope resident Lukas Klause. "It was hard. I feel for [Student Programming and Activities] because they do a hard job in terms of counting everyone out but it was a fun game."
Alpha and Horton battled it out in round three, with Horton coming out on top.
"I'm a little disappointed because I'm a really competitive person," said freshman biblical and theological studies major Emma Rooker, who lives in Alpha. "But you know, I'm going to cheer everyone else on."
A new addition to the festivities this year was a push up competition. Junior biblical and theological studies major Josh Swigart gave OCC the win by doing 70 push ups.
In the first round of semifinals, OCC battled Horton but fell short of a victory.
StewHart and Blackstone fought hard but Blackstone advanced onto the finals.
A dance competition allowed for a break before the final round as each dorm sent their best dancer to the center of the gym. Senior elementary education Savannah Ozier walked away with the win for Alpha.
"It's amazing," Ozier said. "I've done this like all five years and I've never won, so it's pretty cool. It's pretty dope."
About the Writers
Isabelle Thompson, News Editor
Isabelle Thompson is a sophomore double majoring in journalism and business. When she is not busy with school or work, she is most likely napping, petting dogs or on the lookout for good food and adventure.

[email protected]



Before I chose to come to Biola University, I knew I wanted to be involved in my school's newspaper. After freelancing for the news section my freshman year, I was offered the position of news editor at the Chimes. Journalism is something that truly excites...
Macie Cummings, News Editor (Fall 2018)
Macie Cummings is a senior journalism major on a mission to find the best iced vanilla latte. She is passionate about all things Disney, the Dodgers, and the Office.

[email protected]



Four years ago, I never would have thought my Biola experience would turn out the way that it did. I am from the small town of Visalia, California, and if you don't know where that is, just picture cows in the middle of the Central Valley and you're there. I am the oldest of three girls, and...