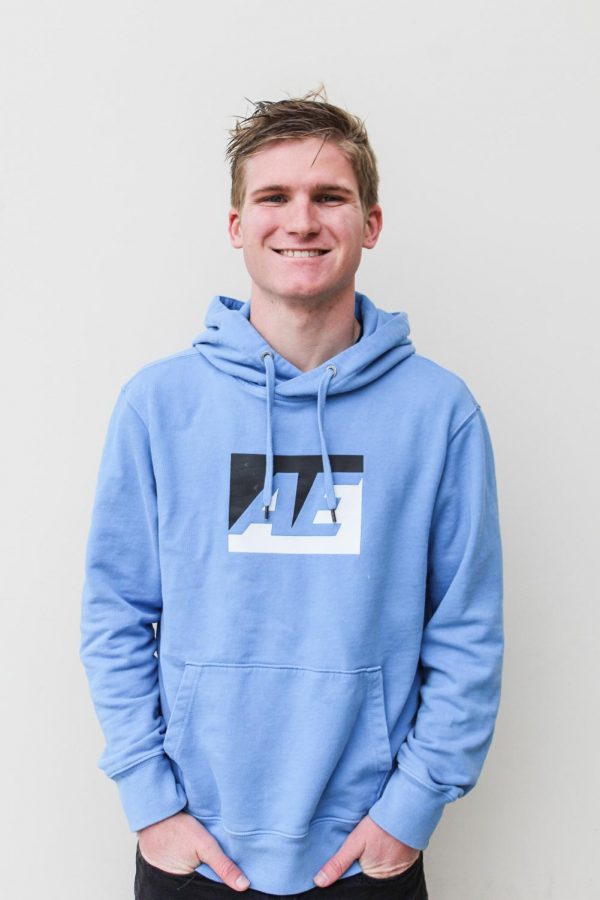 Adam Pigott is a journalism major set to graduate in the spring of 2021. He enjoys training in martial arts and exploring Los Angeles as well as Orange County in his free time.
Hey there! I am a junior journalism major with an emphasis in broadcasting from the beautiful state of Hawaii. I grew up on the Big Island in a small town called Honokaa. I participated in a lot of production-based work in my later years of high school, and I fell in love with telling stories from that point on.
My love of stories originally came from my love of movies. I knew that I wanted to tell stories, but for the longest time, I did not know of the best path to take in order to do that. That's when broadcasting came along.
I love telling stories, and Biola has given me the path to do that. Telling stories through a video camera allows viewers to truly experience the story. Viewers get to experience the emotions, pace and mood because it's taking place right on their screen. I love being a part of bringing viewers that experience.
I want to expand my horizons by not just becoming a good broadcaster, but also being a good writer. I am blessed to be a part of The Chimes, and I look forward to displaying my work.
Adam Pigott, Staff Writer
Apr 25, 2020

A USPS shutdown would be detrimental

(Story)

Apr 18, 2020

Our quarantine habits have brought change that will last beyond the pandemic

(Story)

Apr 11, 2020

Easter should be a time of celebration and remembrance of Christian perseverance

(Story)

Apr 04, 2020

The emotional impacts of the COVID-19 outbreak need to be discussed

(Story)

Mar 25, 2020

How to practice self-care during quarantine

(Story)

Feb 14, 2020

Proposition 47's approach to theft and drug crime needs reform

(Story)

Feb 07, 2020

Preserve the Electoral College

(Story)

Jan 31, 2020

California's state government needs to invest more into higher education

(Story)

Jan 24, 2020

There's more to abuse than meets the eye. I found wisdom and strength in mine.

(Story)

Jan 15, 2020

Americans need to re-evaluate the concept of political discourse

(Story)

Dec 06, 2019

How to navigate family tension during the Christmas season

(Story)

Nov 11, 2019

California's death penalty suspension should be lifted

(Story)

Nov 06, 2019

Columnists should not hesitate to condemn terrorists

(Story)

Oct 22, 2019

"Zombieland: Double Tap" shocks with comedy and gore

(Story)

Sep 28, 2019

"Rambo: Last Blood" finishes the iconic action series.

(Story)

Sep 18, 2019

Mental health misconceptions among Christians need to be addressed

(Story)

Apr 30, 2019

Schoolboy Q ends hiatus with "CrasH Talk"

(Story)

Apr 27, 2019

Wiz Khalifa's "Fly Times" blends foreign and familiar

(Story)

Apr 20, 2019

The ultimate Schoolboy Q playlist

(Story)

Apr 19, 2019

Men's baseball defeats Hawaii Pacific University in close game

(Story)

Apr 13, 2019

Kings Kaleidoscope shows more than just "zeal" in latest album

(Story)

Apr 06, 2019

"Unplanned" presents a heartbreaking tribute to a pro-life advocate

(Story)

Mar 30, 2019

Rapper Darnell Boone finds footing on SoundCloud

(Story)

Mar 28, 2019

Men's tennis beats Pacific University

(Story)

Mar 23, 2019

"Triple Frontier" exhilarates and disappoints

(Story)

Mar 16, 2019

Marvel's Phase 3 stands above the rest

(Story)

Mar 14, 2019

Women's tennis beats Dominican in close game

(Story)

Mar 11, 2019

Dear Professor Simon: "A powerful inspiration"

(Story)

Mar 02, 2019

Kehlani's new mixtape scores big

(Story)

Feb 23, 2019

"Alita: Battle Angel" presents a mixed bag

(Story)

Feb 22, 2019

Chaminade defeats men's basketball

(Story)

Feb 15, 2019

Students explain how Biola addresses disabilities

(Story)

Feb 14, 2019

Find your story through "Stories We Tell Ourselves"

(Story)

Feb 12, 2019

"The Lego Movie 2: The Second Part" builds upon the first

(Story)

Feb 08, 2019

Student artists get the crowd on their feet at the Eddy

(Story)

Feb 03, 2019

Get taken by our Liam Neeson watchlist

(Story)

Feb 02, 2019

"The Marriage of Figaro" entertains, challenges and represents

(Story)

Jan 23, 2019

"Glass" fails to shatter expectations

(Story)

Jan 17, 2019

"The Upside" Review: Kevin Hart shocks in this heartbreaking, heartwarming film

(Story)

Dec 15, 2018

The Chimes' Christmas movie watchlist

(Story)

Dec 06, 2018

"Championships" Review: Gangsta rap and storytelling fill this hip-hop album

(Story)

Dec 03, 2018

"Creed II" Review: Redemption and hip-hop highlight this sequel.

(Story)

Nov 19, 2018

"Overlord" Review: World War II zombie film goes over the top

(Story)

Oct 27, 2018

"Mid90s" Review: Jonah Hill's directorial debut presents a visceral, yet heartwarming coming-of-age story

(Story)

Oct 25, 2017

Elevator maintenance past due

(Story)

Oct 08, 2017

Interns seek God through work

(Story)

Oct 02, 2017

All hail the queen of burgers and business

(Story)