Compelled to move
Thursday's evening chapel charged students to go beyond a consumer mindset of church.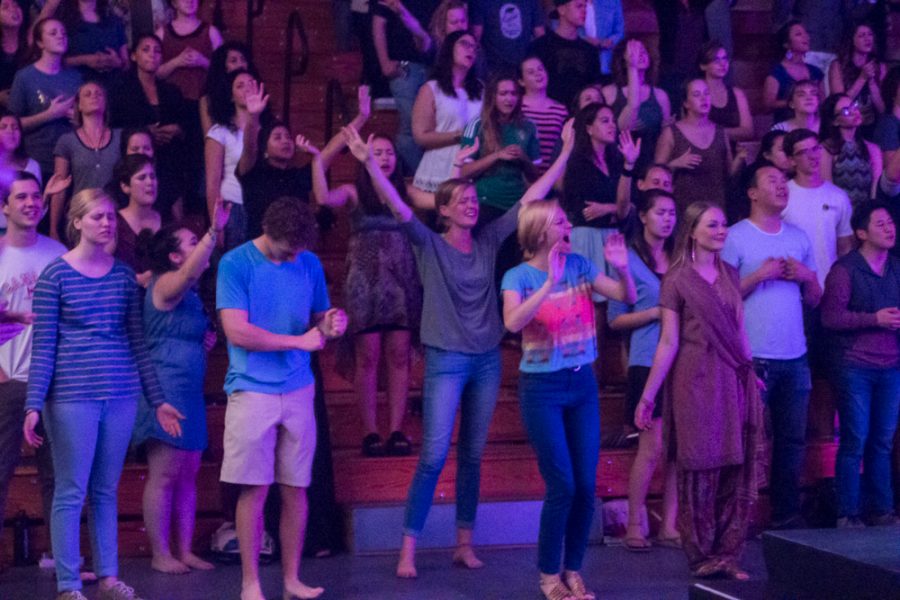 Rachel Bicha, Writer
March 13, 2015
Hundreds of students spent Thursday night reflecting on what God has been doing throughout the conference and responding to His call on their lives. Thursday night's session opened with students reading Scripture in dozens of languages, from English to Arabic, Czech to Cebuano, Japanese to Tagalog. We were able to catch just a glimpse of heaven, as the name of Jesus was proclaimed and glorified in a multitude of languages around the room. The gymnasium was hot and stuffy as students gathered, but the Biola community came ready to worship. All around the room hands were lifted high as hearts and voices cried out, worshipping God together in his holiness.
Ed Stetzer, a missiologist and church planter, encouraged us and called us together as a community to examine how we can join in God's mission and respond to the call He has placed on our lives. He encouraged us with these truths to remember as we consider how we might respond.
Each one of us is gifted with and by the Spirit of God when we become Christians. All of us who have received Christ have been called to follow him in a great adventure on his mission. The moment that Jesus saved us, He called us to ministry. Yet so many of us attend church as passive consumers instead of active servants of the King. God intended for each of us to use the gifts that he has given us for his glory. Whether that is in, through or beyond the local church, each of us has a call to use our gifts to serve others as good managers of what God has given us and to use it for his glory.
Likewise, God empowers us. The call of every believer is to find and use their gifts for an eternally significant purpose in the worship of God and for the purposes of God. We have churches full of Christians who are unengaged – what will it take for us to say yes to God and surrender control to him and the great adventure he has planned for us? The reason we are called, and the reason we have been given these incredible gifts is all for God's glory. We cannot be content to sit in church and sing with our lips of God's incredible glory and power while simultaneously robbing him of his rightful glory if we are not serving him and honoring him through our actions and talents. We must glorify our King through songs and service.
Each of us is gifted by the Holy Spirit, intended to use those gifts through God's power for His glory in order to fulfill his mission. As we have spent the past two days reflecting on who God is and who we are in Christ Jesus, it is now our turn to respond to his call and his mission for us as believers. Even though the session ended with a long time of prayer and worship through song, our response does not end there. As we reflect on God's glory and the greatness of the I Am, we are compelled to move.
So how is God calling you? And how will you respond?
May each of us have the courage and the faith to respond in obedience, as Isaiah did, with the simple offering of our lives, saying, here I am, send me.