A greater calling
Steve Haas from World Vision brings the seemingly far-away poverty of the world closer to Biola students.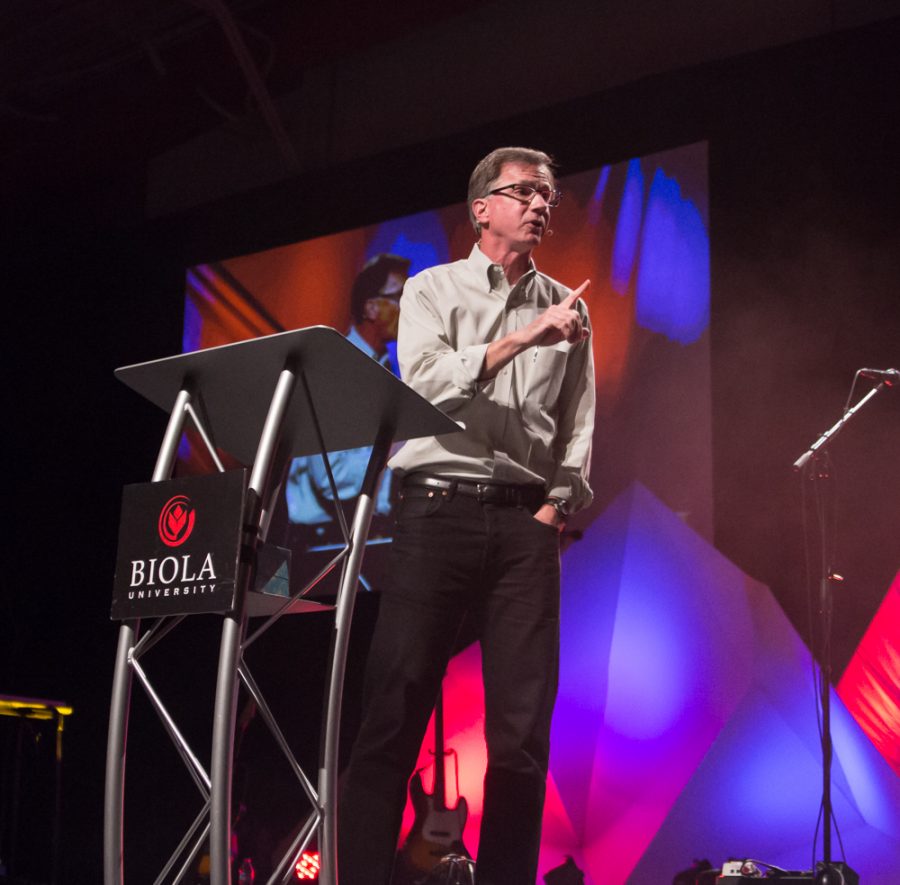 Paige Coleman, Writer
March 13, 2015
You are called. You weird, warped, and wicked humans are called to join the Lord of all creation in his plan to transform the world. Though, if we are being honest, that mission seems a little easier said than lived.
This is where Steve Haas stepped in this afternoon with his session entitled, "Our Great Calling." Haas currently works as the chief catalyst for World Vision whose ministry goal is to bring everything from health to disaster relief solutions to nations across the globe.
He began by presenting us with a host of both "good news and bad news" statistics pertaining to global poverty and suffering. Needless to say, the facts and numbers were both encouraging and distressing, but there was still a sense that we were a little far-removed from it all here at Biola. That is, until he made it our concern. He told the story of a family in Africa who had both the mother and father pass away. Sole responsibility was laid upon the son William who assumed the "head of the house" role after his eldest brother Richard abandoned the family. The question then became, "What would you have to do to make Richard stay?," and it was not just for Haas to answer. Because of our calling in Christ, it becomes our responsibility too.
"The numbers have faces, the faces have names, and the names are precious to the Father. Shouldn't they also be precious to me–to us?" Haas said. Our calling is not some complex mystery that takes years to figure out. All we have to do is look at Christ. Who he cares about, we care about. When we accept Christ, we become co-reconcilers with him.
However, that still does not answer the question of what we actually do and how that affects our lives. A good first step is a short look at James 1:27 which says, "Religion that is pure and undefiled before God, the Father, is this: to visit orphans and widows in their affliction, and to keep oneself unstained from the world." Haas explained that when we reach out to the vulnerable there is a rebound quality for us, yet that requires risk. We have to be willing to give up our privilege and our resources. Though in reality, it is common sense. We are only giving it back to the God who gave it to us.
Steve Haas encourages us to do this in three ways. First, we must provide a covering by playing a crucial role in healing broken relational lines and protecting the innocent through meeting needs. Second, we provide a community that is built on "mutual oneness." Third, and lastly, we obey Christ's command to love. John 15:12 states "This is my commandment, that you love one another as I have loved you." In following His example, we give love sacrificially to those who can never give us anything in return.
The question is no longer "Am I called?" but "What is God doing, and what role has he purposed for me?" God has a plan to transform the world, and he wants you to join him in it.