Understanding the I AM
Kelli Yoon reflects on what it means to understand the calling that we have received from God.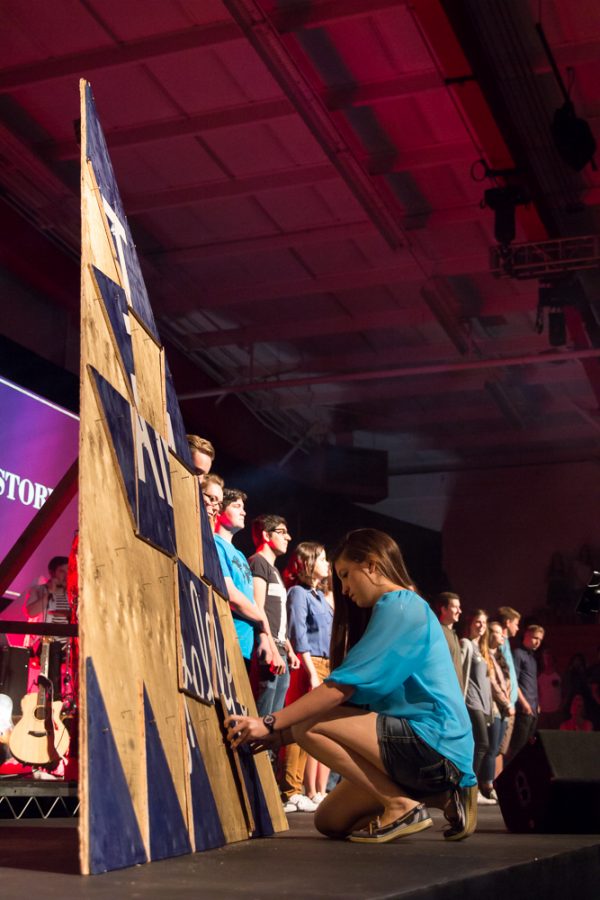 Kelli Yoon, Writer
March 12, 2015
On the morning of the second day of Missions Conference, students from different Biola majors came together, each with a piece of a triangle, to form the statement: "I AM Compelled," showing that all Biola students are compelled to work for the glory of God.
Matt Brown spoke first this morning. Brown, the lead pastor at Sandals Church in Riverside, California, which he founded in 1997, has traveled around the world meeting with missionaries and seeing the good work missionaries are doing.
Brown began his talk with a story about how he and his family went on a safari in Africa. During their safari they saw all kinds of different animals, but not the king of the jungle — the lion. They felt comfortable seeing the animals from the safety of a vehicle, but at night they slept in tents in the wild and they feared the lions. Their surroundings made them vulnerable to their surroundings — especially when the lion made his presence known with a huge roar. This example serves as a metaphor to say while we search for God, God makes his presence known to us.
Brown's message centered on our call to the great I AM, and the response we have to the Gospel. We lose sight of our mission by trying to help others before we fully understand the message we have received. We fail to receive the gospel ourselves — we need to understand the gospel first in order to help others understand. Answering the call of Jesus starts with our respect for the gospel.
One can be a great storyteller in sharing the Gospel, but our power lies in when we live it out ourselves and understand it. To share it we need to have a strong understanding of it. Brown stresses that we must be ourselves. We all struggle and  believe we are not good enough.  None of us are somehow better than the other because we are all sinners. Brown explained that while in seminary school at Biola, God loved him when he was a failure. God is good and helps us when we need him, as God helped Brown become successful and graduate from seminary.
God takes everyone no matter how good or bad they are. God takes joy in loving all. In John 15:3 it states, "You are already clean because of the word I have spoken to you." Because we have responded to God's call, we have become clean. Through His son Jesus Christ, God has given us salvation, and because of this salvation, we are free to be who he has created us to be.