Continuing the journey
Henry Joseph urges students to embrace the freedom they have in Christ, and to be compelled to move forward in love.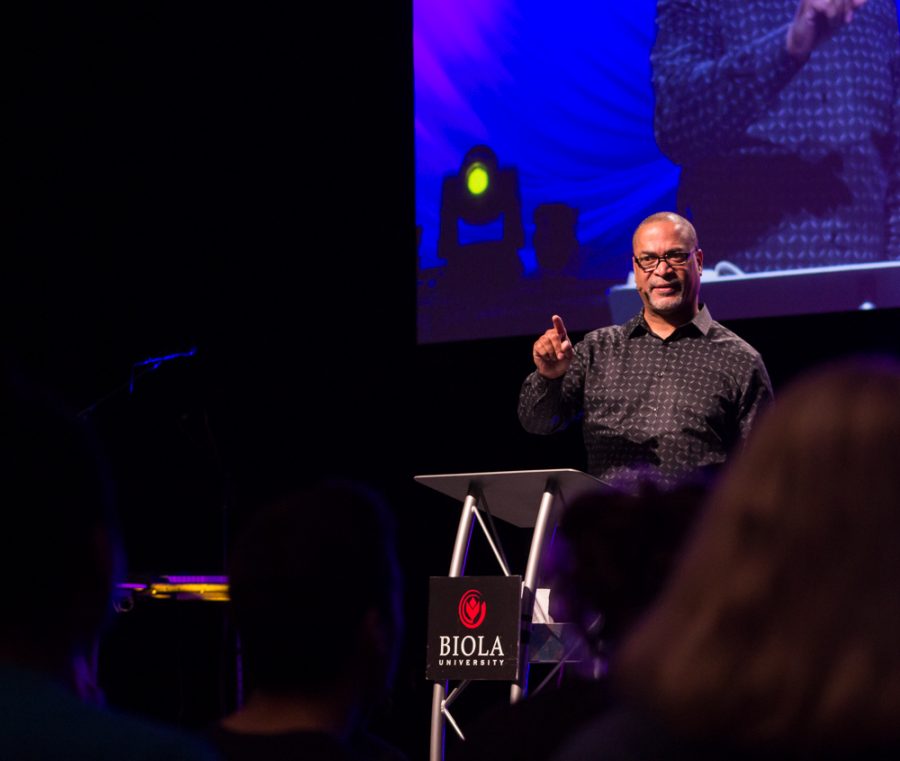 Rachel Bicha, Writer
March 13, 2015
Biola's 86th Missions Conference concluded on Friday morning with a time of worship, reflection and encouragement from Henry Joseph, the founder and director of Proclaim Ministries. Over the past few days, we have heard and reflected on a consistent message, that the Lord, the great I Am, the self-existing one who is unimaginable, incredible, indescribable, the one we call God Almighty, takes people, calls us and equips us to join him on a great adventure and live a life bigger than ourselves, greater than we could have imagined.
Henry Joseph took us quickly through the story of the exodus of the Israelites, peppered with stories of his own encounters with God, urging us to walk forward with confidence on the journey that God is calling us on. Egypt was a source and a symbol of bondage for the Israelites, but God delivered them and saved them from that oppression, and has similarly, through the blood of Jesus Christ, delivered us from our own chains of bondage which tie us to sin. Therefore, we must walk in the freedom that we have in Christ.
God knew the Israelites would let him down. He knew even from before the creation of the world that we would let him down as well. But he loves us so much and is so determined to bless us that he bound himself to us through his covenant so that our sins will not be in the way of his blessings. We are chosen by God and called by him to join on his mission of bringing people out of bondage and into encounters with him.
Joseph urged us to continue on our journey in the light of 1 Peter 2:9, which reads, "But you are a chosen race, a royal priesthood, a holy nation, a people for his own possession, that you may proclaim the excellencies of him who called you out of darkness into his marvelous light." As a priesthood of believers, we are mediators between God and man, chosen people called by the I Am to bring others into a place where they can meet God.
We can walk forward unafraid in light of who God is, for he has called each of us to follow him on a great adventure. He is accomplishing his mission through us – not because he needs to or is under obligation to do so, but because it pleases him. With this in mind, Henry Joseph closed his session today urging us to go, to be compelled to love, to move, to be unafraid, confident in who God is and who we are in Him, knowing that nothing is impossible in Christ.