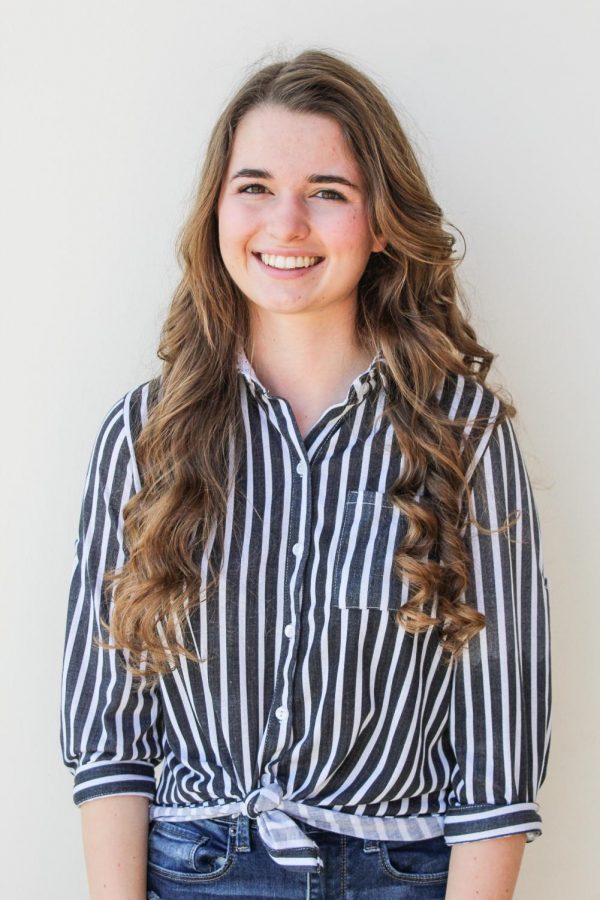 Sophia Silvester is a freshman journalism major who enjoys meeting new dogs, drinking coffee and storytelling in all its forms.
I'm a native Californian that was transplanted to Idaho for seven years where I learned I love snow but hate long winters. Now that I'm back, I'm thoroughly enjoying the sunshine, the beach, and living within ten minutes of In-n-Out. This year I am attempting to combat my fear of failure through jumping headfirst into new experiences like writing for The Chimes as I work towards figuring out what I want to do as a career. Through reporting for The Chimes, I have discovered a love for connecting readers to people from different lifestyles and cultures by telling their stories in a way that bridges gaps. I also love the opportunity to teach my readers about topics I am learning about through the wide variety of articles I get to cover.
When I'm not writing, you can find me reorganizing my dorm room for fun, reading books for Torrey, looking for dogs or researching new ways to make better coffee. 
Sophia Silvester, Staff Writer
Oct 15, 2020

Biola continues to seek Hispanic Serving Institution accreditation during the pandemic

(Story)

May 03, 2020

SGA Rundown: Two final votes to close the semester

(Story)

Apr 24, 2020

SGA Rundown: proposed budget cuts for SMU, SMB, SGA and Campus Engagement

(Story)

Apr 17, 2020

SGA Rundown: Senators discuss constitutional amendment

(Story)

Apr 10, 2020

Boba for Missions wins Biola's Startup Competition

(Story)

Apr 02, 2020

SGA Rundown: Senators receive update on COVID-19, approve prayer book proposal

(Story)

Mar 24, 2020

Crime Log — March 18 – March 24

(Story)

Mar 14, 2020

Engineering students design display case for 500-year-old Bible

(Story)

Mar 12, 2020

SGA Rundown: Senators vote on Spring Symposium, hear proposals for women's discussion and scholarships

(Story)

Feb 26, 2020

Biola basic needs committee makes plan for a new permanent food pantry

(Story)

Feb 20, 2020

SGA Rundown: Senate discusses diversity and inclusion responsibilities

(Story)

Feb 17, 2020

Spring Symposium kicks off with an interracial relationship panel

(Story)

Feb 12, 2020

Godwin/Ferguson elected SGA president and vice president

(Story)

Feb 11, 2020

Crime Log — Feb. 3 – Feb. 10

(Story)

Feb 06, 2020

Biola Shares combats food insecurity

(Story)

Jan 30, 2020

SGA Rundown: Senators vote on proposals and hear student group updates

(Story)

Jan 23, 2020

SGA rundown: Senators brainstorm goals and hear two proposals.

(Story)

Jan 22, 2020

MLK Chapel: racial barriers hinder us from a beloved community

(Story)

Jan 16, 2020

SGA Rundown: Senate reconvenes to establish new semester goals

(Story)

Nov 21, 2019

Muslims in Asia event brings awareness to lesser-known Muslim communities

(Story)

Nov 12, 2019

Journalism and Public Relations split into two departments

(Story)

Oct 31, 2019

Alpha hosts 21st annual Candyland

(Story)

Oct 19, 2019

Information Security promotes cybersecurity amid rising digital threats

(Story)

Oct 05, 2019

Salam outreach builds peace between Christians and local Muslims

(Story)

Sep 20, 2019

Torrey Fall Convocation ceremony welcomes its largest-ever freshman class

(Story)