Biola basic needs committee makes plan for a new permanent food pantry
A potential donor stepped forward to fund a new space to make the pop-up pantry permanent.
The Biola basic needs committee is planning a new permanent space for the Pop-Up Pantry, allowing greater access to food for students who need it.
Since 2016, the committee has worked to provide meal swipes, pantry shares in the Mosaic Cultural Center and the Collegium, the lending library, and most recently, the Pop-Up Pantry. 
BIOLA BASIC NEEDS
Director of Student Enrichment and Intercultural Development Meleca Consultado said the committee started in Fall 2016, made up of faculty, staff and administration from Student Development, Student Government Association and Student Enrichment and Intercultural Development, and in partnership with Bon Appetit. 
They began looking into resources that other schools were providing for students and ways Biola could address those needs as well. They found that other colleges and universities have also increasingly begun to address food insecurity for students. She said that in 2012, only six schools were involved with the College and University Food Bank Alliance. That number is now over 700.
Additionally, the cost of tuition has risen alongside the cost of what Consultado called "second tuition," which includes living expenses, textbooks and other outside fees.
"As our schools have importantly opened [their] doors to a wide range of students, a more diverse set of students, then the needs of these diverse set of students have also come up," Consultado said. 
After researching other institutions, the committee began implementing resources like the Biola Shares meal swipe campaign to start combating food insecurity, but it was not until Spring 2018 that the committee seriously looked into the possibility of a pop-up food pantry. They partnered with SGA to fund the pop-up pantry coordinator for the first year, and one church provided food donations. 
"In order for a student to flourish, they're going to need appropriate fuel, including food," Consultado said. "We as an institution want to be asking, 'How can we support students if they find themselves in this place?'"
She reported that about 200 students use the food pantry each week, 41% of which are commuters. The committee also found through a survey in Spring 2019 that 68% of Biola students face food insecurity. 
The following fall, Consultado presented this data and other initiatives to address student needs to the spouses of Biola's Board of Trustees. A couple weeks later, she received an email that one of those people felt compelled to aid the program anonymously. 
"[That person] asked, 'What are some of the needs? What are some of the dreams?'" Consultado said. "So as a committee, we talked about 'What would be a dream?'"
A PERMANENT SPACE
The committee began exploring different spaces for a permanent food pantry. The Pop-Up Pantry is currently held outside the Veteran's Center every Tuesday, but the food is stored in a variety of places during times the pantry is not up. That makes the set up for the pantry tedious. 
"We usually have to take a cart out and drive it over here [from the Mosaic Cultural Center] and then we also have items in the lower sub closet," said freshman engineering physics major and Pop-Up Pantry coordinator Logan Kuhn. "It's doable obviously, we do it every single week, but it would be a lot easier to have a more permanent space where we could just store our items, pick up donations, do the shopping, come back and store it there and not have to move it."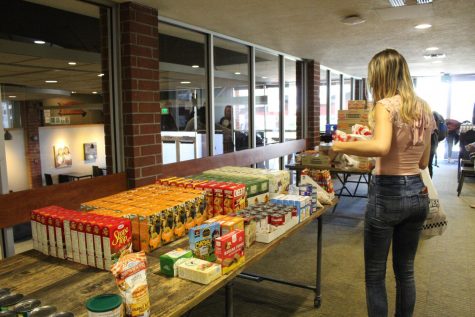 Consultado said the committee went back and forth on space ideas before Facilities Management Manager of Planning, Design and Construction Ken Campbell proposed a dual-space model. His designs involved using the middle area of the Student Union Building to build a pantry that could open when needed and close into the walls when not in use.
"We're really trying to utilize our resources well, utilize our space well [and] have a truly collaborative approach to this," Consultado said. 
Once they had these designs, senators that work with the committee gathered student feedback during their SGA hours, which has been mostly positive.
"It's just cool to work with faculty that really care about this and have been overseeing this for multiple years," said sophomore communication studies major and Horton Hall senator Keren Godwin. "This has been their dream to  have a permanent food pantry for those students and for the entire campus to not have to worry about food."
After gathering this feedback, the committee will present it to Campbell for the new renderings and will then present those renderings to the donor. The committee aims to open the permanent pantry in Fall 2020.