Local produce shines in the kitchen
Anna Frost explains the beauty of buying fresh produce from a local farmers market.
I had the pleasure of shopping at the Orange Home Grown Farmers & Artisans Market this past weekend while working on an article about shopping smart at farmers markets.
If you've never shopped at a farmers market before, it can seem overwhelming. However, I promise it is simple to figure out what to do with the food you take back to your dorm, apartment or house kitchen.
To prove this, my trusty photographer had a brilliant idea. After we went around the market once, she chose four ingredients at random, with which I would make a meal using only what was in my kitchen. Kind of like my own personal "Chopped" challenge, but without the cornucopia that is the show's food pantry at my disposal.
The beauty of cooking fresh produce from the market is you don't have to work hard to make it delicious.
If you're brave, try picking up random ingredients at a trip to the market. However, if you want a safety net, pick out a large artichoke and an Asian pear from the farmers, and the smokey bleu cheese from Provision — who will give you a fresh loaf of bread along with your purchase — and follow my lead.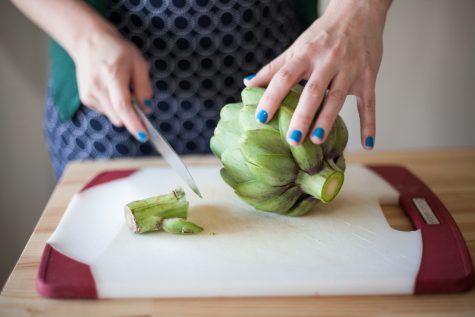 Artichoke:
1 large artichoke
Fill a large pot with about five inches of water and bring to a rapid simmer.
Cut the stem off the artichoke so there is only about an inch left. Chop off the end of the top of the artichoke to remove the tips and create a flat surface. You can trim the pointy tops of the leaves as well, if desired.
When water is simmering, place the artichoke in the water, stem up, and let steam for about 30 minutes. The stem should be soft when tested with a fork and you should be able to easily pull out a leaf from the cooked artichoke when done.
Let the artichoke cool for a few minutes. Remove leaves and set aside to eat. Remove thin leaves from the outside of the heart. Use a spoon to scoop out the fine thistles. Use the heart and stem in the hummus recipe.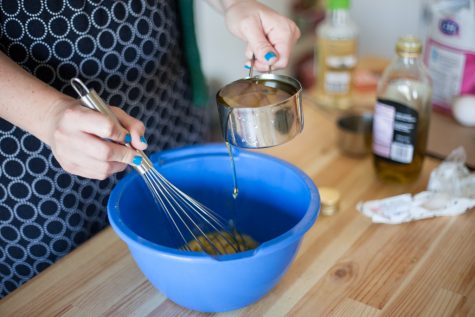 Bleu cheese mayo:
1 cup vegetable oil
1 teaspoon vinegar or lemon juice
2-3 tablespoons water
1 egg yolk
Pinch or two of salt
Bleu cheese, about 2-3 ounces
A note about the oil: I used olive because it was all I had, but the strong flavor competes with the bleu cheese. It is best to use a flavorless vegetable oil instead.
Whisk together egg yolk, water, vinegar/lemon juice in a small bowl. Stream in oil slowly while rapidly whisking.
In a separate bowl, crumble bleu cheese or cream using a rubber spatula. Add mayo slowly, stirring to incorporate.
Serve with artichoke leaves as an appetizer or a side to the main entree.
Artichoke Hummus:
1 artichoke heart
8 ounces chickpeas, about half a can
2-3 tablespoons water from canned chickpeas
3 teaspoons olive oil
2 cloves garlic, finely chopped
1/2 teaspoon of salt
Use a food processor to puree artichoke heart and chickpeas with oil and water. Add oil or water if needed until the mixture is thick and smooth. Add garlic and salt, puree until combined. Taste and add salt as desired.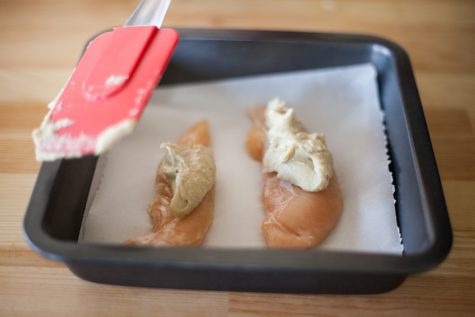 Hummus-crusted chicken:
Chicken breasts
Artichoke hummus
Preheat oven to 450 F.
Place chicken breasts in baking pan or on sheet pan lined with parchment paper. If using thick chicken breasts, slice in half so each piece is thinner.
Place the chicken breasts in the baking pan. Spread a generous amount of the artichoke hummus over the tops of the chicken and place in oven.
Bake for 15-20 minutes, until the chicken is cooked through.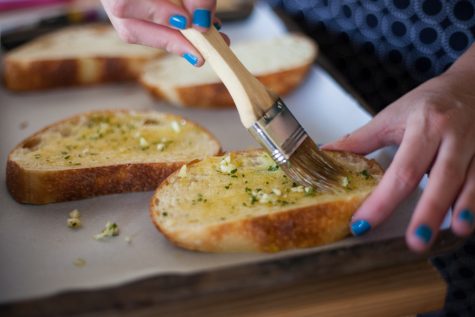 Rosemary-garlic bread:
1 loaf fresh bread, sliced to your preferred thickness
2 tablespoons fresh rosemary, finely chopped
2 cloves garlic, finely chopped
3 tablespoons olive oil
Preheat oven to 450 F.
Mix together the oil, rosemary and garlic in a small bowl. Use a brush or a spoon to spread the mixture over the slices of bread.
Bake on the top rack of the oven for 8-10 minutes, until toasted. Serve with chicken.
Asian pear with spiced ice milk:
1 large Asian pear
2 cups unsweetened almond milk, coconut milk or cow's milk
1/3 sugar
2 tea bags of rooibos pumpkin spice tea, or similar tea like chai spice
2 egg yolks
Ice
Spiced ice milk
In a small pot, heat the milk of your choice on high heat. Coconut milk or full-fat cow's milk will be creamier than if almond milk or low-fat cow's milk is used.
When the milk begins to steam and is just about to simmer, turn off heat and place the two tea bags in the pot. Cover with either a lid or a tight layer of plastic wrap. If using plastic wrap, be careful to only place it near the top of the pan to avoid melting. Let the milk and tea sit and steep for 20 minutes.
Remove and discard the tea bags. In a small mixing bowl, whisk together two egg yolks and about half of the 1/3 cup of sugar until the yolks are thick and pale yellow. Stir the rest of the sugar into the milk.
Return the pot to medium-high heat, stirring occasionally, until the milk begins to simmer. Whisk about half of the milk into the egg yolk mixture, then pour it back into the pot. Stir the mixture constantly for about a minute, then remove from heat.
Pour the hot liquid into a medium bowl. Place some ice into a large bowl and fill halfway with cold water. Put the bowl with the hot ice milk base into the ice bowl and whisk until most the steam subsides. Let chill until cool to the touch for about 20 or 30 minutes.
Pour the ice milk base into a 9 x 13 metal baking pan and place in the freezer with the whisk. Take out the mixture to whisk together as it freezes every 20 minutes until the mixture is frozen and semi-smooth. Place in a bowl and return to freezer until needed.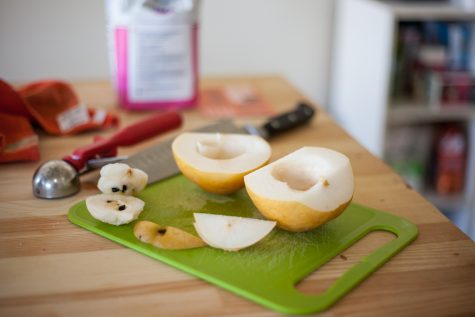 Pear
Preheat oven to 450 F.
Cut pear in half. Scoop core out with a spoon or ice cream scoop.
Place halves on sheet pan lined with parchment paper. Roast pear halves in the oven for about 30 minutes. Pierce with fork once or twice before baking to prevent them from cracking as they bake.
When finished, the pears will be tender enough to easily pierce with a fork and the juices will have caramelized a bit on the bottom.
Place pears on a plate to let cool for a few minutes. When ready to serve, place one scoop of the spiced ice milk on top of each pear half. Enjoy immediately.