Banana bread soothes the soul
Whip up this banana bread recipe from a classic cookbook as a source of relaxation and refreshment.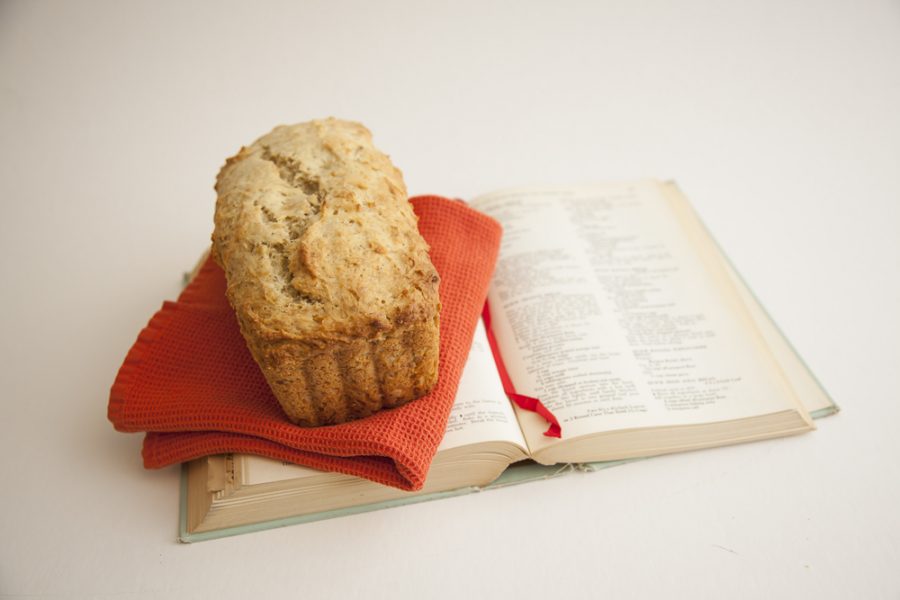 Anna Frost, Writer
February 24, 2015
Banana bread is a simple joy that you can make with minimal hassle and enjoy for a few days after it is baked. As the semester progresses, our stress levels rise exponentially as our free time rapidly plummets. Now, about four weeks into our classes, is the time to indulge in non-microwaveable comfort foods to keep insanity at bay.
For me, banana bread is as nostalgic as it is delicious. I grew up in a house where Irma Rombauer's "Joy of Cooking" ruled the kitchen. My dad followed the recipes religiously just as his parents did. Copies of the cookbook were passed down from one generation to the next; the copy sitting on my apartment's quaint and overfilled bookshelf once belonged to my grandfather's sister. My mom often made this banana bread recipe, usually to use up the brown, slightly too ripe bananas we refused to touch as kids. However, roasting still-yellow, ripe bananas will provide the same strong taste that most desire.
So throw a loaf of banana bread in the oven to chow down on while you study or relax with Netflix. Breathe the aroma of bananas in deeply, and know you have the strength to conquer what is to come.
Banana bread
adapted from Joy of Cooking
1 3/4 cups all purpose flour, sifted
2 1/4 teaspoons baking powder
1/3 cup butter, softened to room temperature
2/3 cups granulated sugar
3/4 teaspoon lemon zest
2 eggs, beaten
1 cup banana, mashed — approximately 2 bananas
Optional — fruit such as fresh or frozen blueberries or blackberries, chopped walnuts or pecans, chocolate chips
Note: If using bananas that are not extremely ripe — read: all brown, just speckled — roast them in an oven preheated to 400 F. Leave the bananas in the peels and cut a slit down the length of the banana to allow steam to escape while roasting. Place the bananas on a baking sheet and place in the oven for approximately 15 minutes. When done, the kitchen should unmistakably smell like banana.
Preheat the oven to 350 F. Grease an 8 x 4 inch loaf pan with oil, softened butter or cooking spray and set aside.
Combine the sifted flour and baking powder in a medium mixing bowl.
In a large mixing bowl, use a rubber spatula or an electric mixer to beat the softened butter with the sugar and lemon zest until creamy. Stir in the beaten eggs to the butter mixture until completely incorporated. Mash the bananas in a separate bowl into a pulp with a few lumps as possible. Add into the butter mixture and stir to combine.
Add the flour into the wet ingredients in three parts, stirring after each addition until the flour is incorporated well. Fold in any additional ingredients, such as nuts, fruit or chocolate chips if desired.
Pour the batter into the greased loaf pan and bake in the oven for approximately one hour. Press lightly on the top of the bread to check if it is ready to remove from oven; if it springs back it is done, but if it does not, leave in oven for an additional five minutes.
Let the banana bread cool before removing it from the loaf pan or slicing it. Share with lucky friends, or hoard for your morning meals and afternoon snacks.