Don't forget about the frosting
Anna looks back at her favorite Don't Forget the Frosting recipes and memories.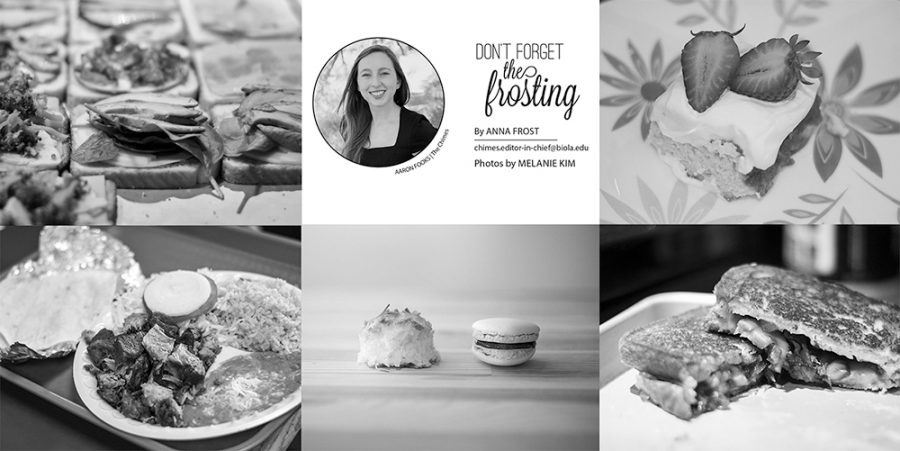 Anna Frost, Writer
March 4, 2015
Though it seems like ages ago, it has only been about 2 1/2 years since I met with the then-features editor for the Chimes and began writing this column. I had started at Biola just a week before when I started sharing my love for food with the student body via this column.
I became friends with the photographer who spent 2-3 hours per week in the Alpha lobby kitchen cooking with me and the Kitchen Aid mixer I insisted on keeping in my dorm room — she is now my right-hand woman or, more officially, the manager editor of the Chimes. Despite my fear of becoming a TV chef, I let the then-web editor and video producer talk me into doing cooking segments for the video section, and I managed to not seem too spastic on camera. I reviewed delicious restaurants while enjoying meals with wonderful friends and co-workers.
I realized recently that I had not taken a moment to look back at all the past articles I wrote and, as I did, memories of turning Stewart's lobby into a film set, hauling ingredients and equipment up the Alpha stairs, and waiters' confused looks as someone photographed every plate at the table rushed back.
This will be the final "Don't Forget the Frosting" article as this column comes to an end this week. However, I implore you, do not forget "The Frosting" as we sometimes call it in the newsroom. Look back with me today at some of the recipes and places we explored together, and then remember them when you need something to cook or somewhere to eat.
1. Tres leches cake: This ultra-moist cake is one of my favorite dessert recipes from south of the border, aside from churros, as I honestly believe that there is no better treatment for sponge cake than to be soaked in three types of milks and topped with whipped cream. I made tres leches cake as one of the first cooking videos I filmed for the Chimes, which involved me feeling awkward and a little bit like Rachael Ray. I have not met a person who did not love this cake after trying it, so surprise your friends with this unique cake for the next birthday celebration.
2. Food Truck Fridays: This event, which is still hosted by Truck Squad on Fridays in the Fullerton Best Buy parking lot, is an excellent way to escape the weekly grind of the Caf. Grab some friends and pig out. The variety of trucks ensures that everyone has a food option, even if you are not craving the same things.
3. Gourmet grilled cheese: Need I say more? I spent a couple hours in the Alpha kitchen with a photographer making these five grilled cheese sandwiches with funky names, and then fed them to lucky passersby because I had five sandwiches and two people to eat them. Every sandwich received extremely positive reviews from the randomly selected Alpha residents who happened by the kitchen, so I am not just bragging when I say these are some of the best sandwiches I have made. Enter misogynistic joke here, and then go make yourself a grilled cheese sandwich.
4. El Camino Real: If you have not eaten at this Fullerton hole-in-the-wall restaurant, there is probably an authentic Mexican food-shaped hole in your soul. Go now, and thank me later.
5. Macarons vs. macaroons: I wrote this one after everyone in the Chimes office kept calling the cute French sandwich cookies, which are called "macarons," by the name of the American coconut haystack cookies, "macaroons." Mispronouncing the word "macarons" is common mistake among most, which drove one of the chefs at my culinary school crazy. So, in honor of the four weeks I spent making nothing but macarons in his class, I aimed to correct this grievous error of speech. The best lessons end with eating cookies, I believe.