Break up with sparkling cider this Christmas
Spice up your Christmas parties with these festive seasonal drinks.
Though every detail of food for a party or dinner is often meticulously thought out, drinks often get left out in the cold. I, however, am a little weary of the ever-present bottle of apple cider that is popped open for celebrations in lieu of other libations. It is time to get creative, a little innovative and take back beverages. Refuse to buy into the falsehood that coffee, soda and cider are our only choices for sipping and celebrating during the semester.
With only a handful of simple ingredients and a pinch of inspiration, making delicious, intriguing drinks takes only a few minutes. These are more than sweet, kid's menu Shirley Temples — these carefully crafted drinks have a voice of their own and demand attention. Whether you are a throwing a pre-finals Christmas party or toasting an on-contract 21st birthday in the following months, I encourage you to venture away from banal beverages and try out a few merry mocktails.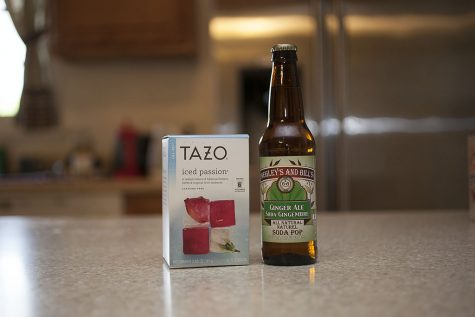 Ginger-Hibiscus Fizz
Although the fruity and exotic flavor of hibiscus tea seems like it would scream summer, spicy ginger beer lends a hand in adding holiday cheer. This crisp, refreshing drink is a simple yet unique way to spice up any Christmas gathering.
1 hibiscus tea bag
2 cups water
Ginger beer, bottled
Ice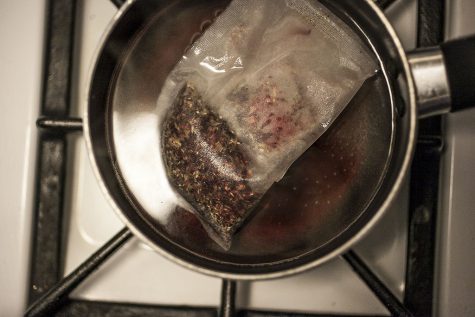 Boil the water in a small pot on high heat. Remove from heat when boiling and let the tea bag soak until the water turns a deep red color. After the tea cools, pour the hibiscus tea to the halfway point of a short, wide glass filled with ice. Top off the rest of the glass with chilled ginger beer, stir and enjoy with good friends.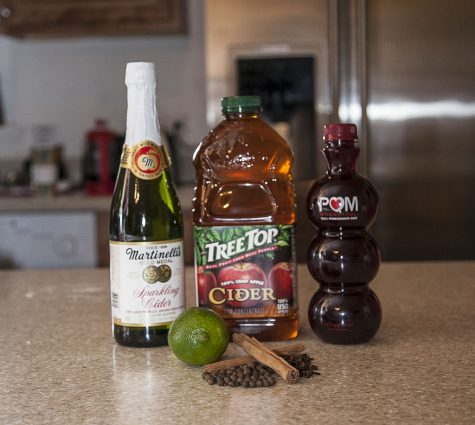 Pomegranate-Apple Sparkling Punch
The flavors of the whole spices slowly mingle with pomegranate and apple over a low flame and envelope the kitchen in a delicate, yet full aroma. This twist on spiced apple cider is best served piping hot alongside homemade cookies or beside a fireplace. The lime and sparkling cider adds a zing that gives this sweet drink a punch.
2 1/2 cups apple cider
1 cup pomegranate juice
2 cinnamon sticks
6 whole cloves
1/2 teaspoon whole allspice berries
1 lime
1 cup sparkling apple cider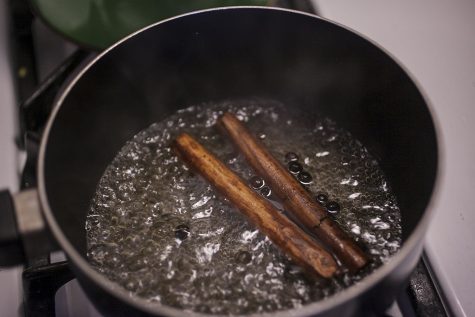 Heat the apple cider, pomegranate juice, cinnamon sticks, cloves and allspice in a medium, wide pot on medium-heat. Once the punch comes to a simmer, turn the heat down to medium-low and continue to simmer for 10 minutes.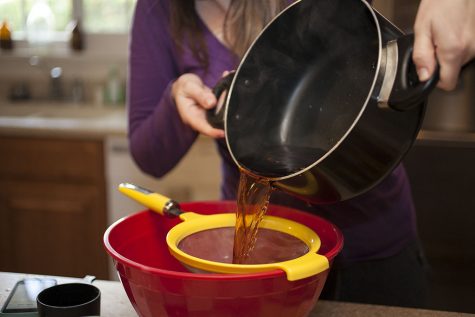 Juice the lime, which should yield about two tablespoons of juice. Take the punch off the stove when it is done simmering and stir in the lime juice. Use a fine mesh strainer to strain the punch and discard the spices. Add the sparkling cider and serve immediately — in either a large, decorative punch bowl with a serving ladle or poured in individual heatproof glasses.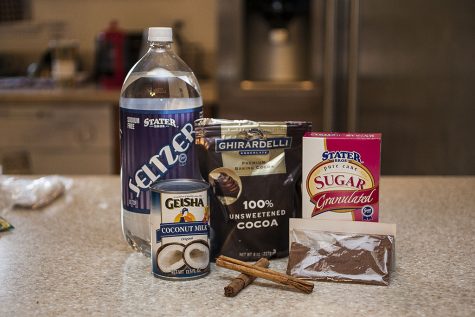 Spiced Chocolate Egg Cream
Despite the name, there is no egg to be found in this beverage. Instead, rich chocolate syrup with a hint of creamy coconut milk fizzes in a tall glass, ready to be sipped. The seasonal spices play well with the chocolate — heightening the cocoa flavor in new, distinct ways. Seltzer water balances the rich syrup, keeping the drink light enough to enjoy with either appetizers or a meal.
2 cinnamon sticks
1/2 teaspoon whole allspice berries
1 cup water
1 cup sugar
1/2 cup unsweetened cocoa powder
1/4 teaspoon ground nutmeg
About 3/4 cup coconut milk
Seltzer water
Ice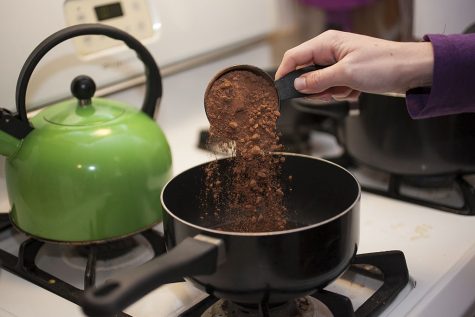 Toast the cinnamon sticks and allspice in a small saucepan over medium heat for about two minutes, or until they begin to become fragrant. Add the water into the pot and bring to a boil, remove from the heat and let stand for 15 minutes to let the flavor infuse into the syrup.
In a separate bowl, whisk together the sugar and cocoa powder and then stir into the water. Cook the chocolate syrup on low heat for about 10 minutes and remove from heat. Pour syrup through a fine mesh strainer and chill in the refrigerator.
To prepare each glass: Fill a tall glass with ice. Mix 1/4 cup of the chocolate syrup with one tablespoon of coconut milk. Pour the mixture over the ice. Top off the glass with seltzer and serve right away for the full effect of the fizz.