A book as delectable as its recipes
Anna Frost chooses a delectable recipe from Shauna Niequist's new book that discusses the beauty of food and community.
For a book that isn't a cookbook, Shauna Niequist's "Bread & Wine: A Love Letter to Life Around the Table with Recipes" is ripe with diverse and delicious recipes capable of tempting anyone who remotely enjoys eating. However, the instructions for blueberry crisps, enchiladas, risotto and chocolate cake that pepper the pages are secondary to the hearty helping of anecdotes and reflections that circle Niequist's world of family, friends and food.
In under 300 pages, Niequist captures the beauty of food enjoyed in community with breathtaking ease. The honesty with which she explores her personal struggles — from pants sizes to pregnancy — against the backdrop of a delight for food captivates the reader as much as the joyful stories told about parties of various sorts. She acknowledges and challenges a modern world that has decided food is a chore to get out of the way with drive-thrus and microwaveable meals without intimidating those new to the kitchen.
Although she promotes cooking from scratch, Niequist does not discount the power of a delivered pizza to bring people together as well as a five-course gourmet meal. Bringing people together is more important than the food itself, Niequist asserts. In a world of disconnectedness — with both our food and the people around us — I wholeheartedly agree. If we want to escape the digital death grip and actually communicate with friends and family in person, turning off the Food Network and Facebook and sitting at a table with home-cooked food is an excellent idea. As the chapter "What the table is for" points out, there's something special and uniting about a table with food on it. She writes, "The table is the life raft, the center point, the home base of who we are together."
So after you read "Bread & Wine" cover to cover, start at the table. If that means eating cookies with your friends around a dorm lobby table after a long day, so be it. If you are in the mood for more of an adventure, allow me to suggest trying one of my favorite recipes from this literary and culinary delight — the bacon-wrapped, goat cheese-stuffed dates. Niequist puts it on her list of items that would be present at her last meal, and it is now on mine. So gather up some friends before the semester ends, pop these in the oven and enjoy each other's company at the table with this treat.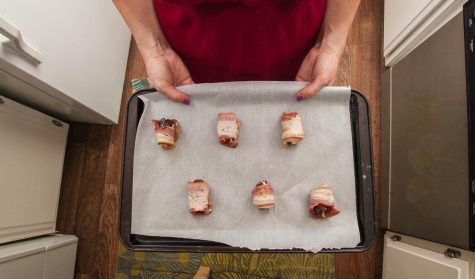 Bacon-wrapped dates
from "Bread & Wine" by Shauna Niequist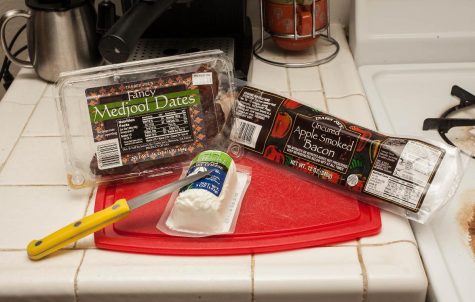 1 8-ounce package Medjool dates
4 ounces goat cheese
1 16-ounce package bacon
Preheat the oven to 400 F.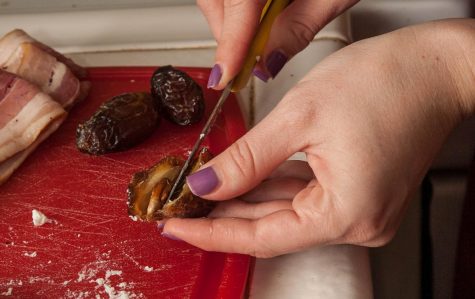 Slice each date lengthwise, remove and discard the pits. Open each date and place a small scoop of goat cheese into the date. There should be enough to fill each date without the cheese overflowing when you close it. Close the dates and set them aside.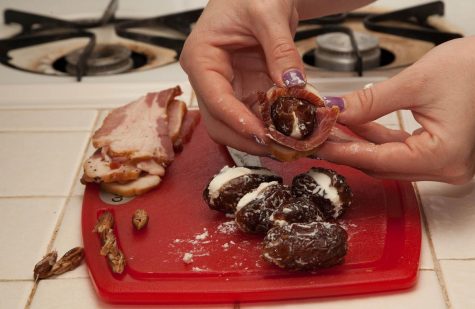 Cut the bacon strips in half all at once and set a date at the end of a half-strip of bacon. Roll the date in the bacon and place it seam-side down on a cookie sheet lined with parchment paper. After all the dates are ready, put the cookie sheet in the oven and bake for 20 – 25 minutes. If you use thick-cut bacon, you may need to add an extra 5 – 8 minutes to ensure the bacon is cooked through.
Place the finished dates on a paper towel to soak up any grease and let cool for at least 10 minutes before serving to prevent molten cheese from ruining the beautiful experience that is these bacon-wrapped, goat cheese-stuffed dates.