It's the season for football fashion
Daryn Daniels revives a sporty vintage look revolving around the iconic varsity jacket.
Football isn't just for the boys anymore. Take a cue this season from the quarterback and the head cheerleader by rocking a varsity jacket.
THE LEGACY OF THE VARSITY JACKET
Maybe it is the school spirit still pumping through my veins from Midnight Madness or perhaps it is the fact that I will take any opportunity I can to make people think I'm more athletic than I am, but lately I have been all about adding some tomboy touches into my style — enter the varsity jacket.
I may have watched "Grease" and "Footloose" too many times as a kid, but if you ask me, there's something about a varsity jacket that makes everyone around it and anyone wearing it seem cooler than they probably are. The varsity jacket's iconic image brings a sort of nostalgic memory to mind no matter what you pair with it, and that image usually oozes "cool."
Think Danny Zuko at the end of "Grease," Zach Morris and Kelly Kapowski in "Saved By the Bell" and Finn Hudson in "Glee." There is a legacy to the varsity jacket. As soon as you put it on, no matter how hard you try to fight it, you start to feel it. The jacket makes you feel as though you either run the school or are dating the guy who does. Both of those feelings put a little more sass in your step.
CHOOSING UNIQUE ACCESSORIES
You can pair a varsity jacket with many different  bottoms to create a unique look. Here's an easy way to describe it: If you want the "this is my dad's vintage letterman from when he was the starting quarterback in '83," then pair it with a white t-shirt, jeans — preferably high waisted for the old school look — and Chucks.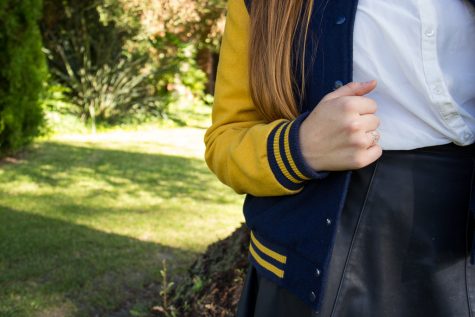 On the other hand if you tend to have a girlier style, like myself, and lean towards the clichéd "I'm head of the cheer team and my highschool sweetheart is the varsity quarterback," then you'll wear the letterman differently. Swap out the jeans for a skater skirt — it's a lot girlier than it sounds — and keep the white tee or wear a button up instead. For shoes, opt for either Chucks or Keds. Those small changes instantly transform the look from A.C. Slater before a wrestling match to Sandy Olsen before the Rydell High pep rally.
The idea of this look is to get the boyish, sporty feel without the boyish body. As a whole, keep in mind that the best combination to make a varsity jacket flattering on a female's body is to pair it with a fitted bottom. The bottom does not have to be skin tight, but anything that brings the eyeline back in from the jacket works well. Great options that fit this criteria are a circle skirt, banded skirt or skater skirt. For more of a tomboy feel, choose skinny jeans or high waisted shorts. All of these looks will allow you to show off your silhouette even with a giant jacket.
Generally when the statement piece is such a bulky one, you don't want to add too much extra because it starts to seem too heavy. But throwing on a simple silver ring or bracelet with some red lipstick can never hurt.
Now that your football season look has been perfected, there's only one question Hank Williams Jr. and I have to ask you: "Are you ready for some football?"
Check out Dayrn's personal fashion blog here.