Three Halloween costumes you probably already own
Daryn Daniels presents her favorite Halloween costume ideas.
Fall is in full swing and as October comes to a close, one of my favorite holidays is ushered in — Halloween. Now, I know there is quite a bit of discussion around the holiday of Halloween as far as the church goes, but here are my thoughts:
THE JOYS OF HALLOWEEN
1. It is a wonderful day where young ones are expected to knock on people's doors and after uttering three simple words, receive free candy. What's not to love about that? 2. You get to be whoever or whatever your heart desires — whether it is a princess, or a tiger or a ninja. Halloween is the day your dreams can come true. 3. Past Halloweens — when your parents chose your costume for you —  make for great Throwback Thursdays.
Now, I've always been a princess or cheerleader kind of girl when it comes to Halloween. But I have to admit this mysterious and spooky Wednesday Addams costume was pretty fun and surprisingly simple to put together! All you need for the basis of the costume is a white button down, a black dress, black tights and black shoes. If you don't have a black dress you can always use a black skirt and a pullover sweater. You just want something that will show the white collar.
CLASSIC LADY COSTUMES
After you get your essentials on, it's time for the fun stuff. When it comes to Wednesday, the jet black hair and middle part braids are what make the costume recognizable. The easiest way to accomplish this look is to first get dressed, braid your hair, wrap yourself in a towel — to protect your clothes — and then spray away.  I got black hair spray from Target in the Halloween section for $2, and it worked perfectly.
I will say it can get really messy, so make sure you give it ample time to dry, and wash your clothes right away to avoid stains. It is easiest to do it if your hair is already in braids because not only do you have less surface area to spray since a lot of your hair will be hidden inside the braid, you won't have to try and braid it once it has already been sprayed. This eliminates some of the mess.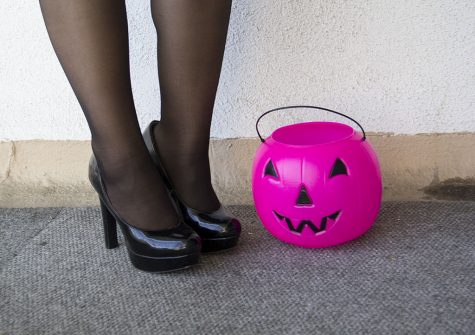 Natalie Lockard/THE CHIMES
As far as makeup goes, I wanted to do something a little more fun. I started with a dark burgundy lipstick from MAC and then lined my lips with black eyeliner and blended it in. This gave a bit of an ombré effect rather than just flat-and-goth black. For the eyes, my friend Maddie Eccleston used a yellow-gold shadow and blended it with a black into a smokey eye. Overall, the look took about 45 minutes to put together.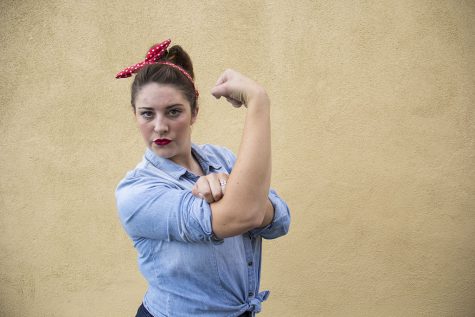 Natalie Lockard/THE CHIMES
The second costume is one of my favorites. It is easy, yet original and recognizable — Rosie the Riveter. All you need for this look is a chambray or jean shirt, a red polka dot ribbon, red lipstick and a little bit of elbow grease.
From this point the costume pretty much puts itself together. Throw on your jean shirt with a white tank underneath, slap on some red lips, toss your hair up or leave it down, tie the ribbon in it and you are almost ready to go. You can make the bottom half a little girlier with a black skirt and some heels. Or you can keep it simple with a pair of cuffed jeans with combat boots or Converse. All you have left is to master the flex and Rosie's "We Can Do It" attitude.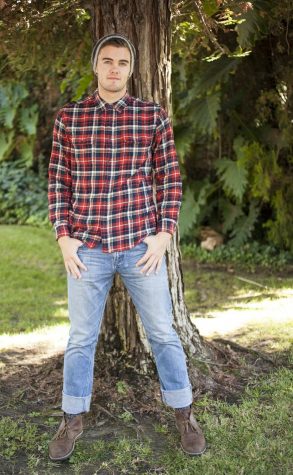 Melanie Kim/THE CHIMES
ESSENTIALS FOR THE GENTLEMEN
Lastly, we cannot forget the boys. This one is not only for those who like Halloween costumes, but also for those who would rather do anything than dress up. This costume is one that just about any boy already has in his closet. I give you the lumberjack: the most simple yet seemingly thought-out costume ever invented.
Gentlemen, here is what you need: a flannel shirt, suspenders, jeans, boots, a beanie, an axe if you would like and a beard. No, no, no, not a real one, a paper one. Start off by cuffing your jeans, buttoning up your flannel and strapping on the suspenders. Then lace up your boots, throw on a beanie and grow a beard — you may want to start this ahead of time or plan to draw one on.
Last, grab some scrap cardboard and cut one long skinny piece like the handle of an axe and a second piece like the head. Then wrap the head in duct tape and secure it to the handle and, voilà.
Now you've got an axe — and a costume. If you are really into Halloween, tell people you are Paul Bunyan, and they are guaranteed to think you are 10 times more creative. Plus for those of you who have ladies, this is an easy couples costume. You can either both go as matching lumberjacks or if you really want to get creative you can try Paul Bunyan and Babe the Blue Ox.
Be safe, be fun and be something you have always wanted to be. Happy Halloween, Biola, and the best of luck to you who still attempt trick-or-treating — I commend you.