Many shades of pink
Daryn Daniels instructs about how to properly pull off the color pink.
I don't know about you, but I love magazines. I have subscriptions to Vogue, Vanity Fair, Harper's Bazaar and more. And I love learning a new recipe, picking up a new trend and learning how to take something that is "runway" worthy and make it real-life practical. One thing that caught my eye continuously this past month in the magazines was the influence of pink. Pink is everywhere, and I could not be happier. Who doesn't like a little extra Elle Woods in her life? I know I certainly do.
Pink covered the runways during September's New York Fashion Week Spring 2014. Models from Chanel to Marc Jacobs were dolled up head to toe in the ultra-femme hue. Read on and in no time, you will be pulling off "pretty in pink" better than Molly Ringwald and Malibu Barbie combined.
Singly pink
Now, there are many ways to wear an all-pink outfit — everything from a neon pink dress to a deep magenta menswear ensemble included. But let's be honest, that is not realistic for an everyday look.
For this week, I featured a look that is a little less matchy and a little more muted. These pinks are easy for any girl to pull off, and look great with any skin color with small tweaks of tone.
The key to pulling off a monochrome outfit without looking like a giant crayon is choosing different textures and tones.
In this outfit, the shirt and blazer are pretty much the same color. The blazer, however, has the accent of silk on the rolled up sleeves, and the shirt underneath is a rougher texture. This allows for a complementing combination without looking flat or "blah."
A good-structured jacket can also complete an outfit. For those with straighter physiques, a jacket with a more defined and structured waistline can create the illusion of curves.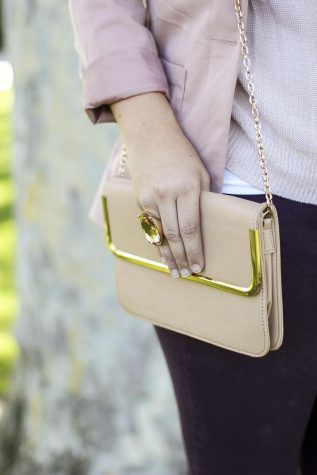 Bring on the color
Also, a good rule for combining different shades of one color in an everyday look is the more pieces you have, the more neutral the colors should be. For example, a dress can be a neon pink or bright magenta, but an outfit with a lot of pieces — like the one shown — should be a more dusty rose tone. If you add too much of one bright color it can start to look really overwhelming and obnoxious instead of classic, and that is less than desirable.
When it comes to color, using a lighter shade on top of a darker bottom will make the legs look longer and automatically create a line that brings the eye straight up to the face. On the contrary, wearing dark on top and light on bottom will do the opposite, resulting in a less flattering look that brings the eye downward and accentuates the legs rather than the face. For a look like this one, some good color options for a bottom piece include mauve, plum or even deep burgundy jean. With the combination of the light pieces on top, this outfit looks even more flattering.
Try a texture
When you choose an outfit of only one color, the statement is the color itself. This means that everything else should act supportingly. For example, try adding purse — or in this case a clutch — that is within the same color scheme but has a different texture. This addition will play up the rest of the look rather than distract from the statement. Same goes for makeup and hair. Let the look speak for itself, and try something gilded and rosy for the face. Wear your hair down or pull it back in a sock bun if you are attempting a more professional style. By combining a simple hairdo with simple makeup, you frame your face and allow your natural features and beauty to be highlighted.
In fashion, everything from head to toe matters. For shoes, some plain booties or nude flats are great for this outfit. They sophisticate the outfit while keeping it fresh and young. Lastly, an easy way to dress down an outfit and make it a little less "Monday morning in the office" and a little more "casual Friday" is to roll your jeans. By rolling them one and a half inches and leaving a little skin showing, the abrupt line between your jeans and your shoes is broken up.
By now I am sure you have all seen just how much I love color, especially pink, and I hope that all of you have come to love it a little more too. We come from a God who not only made color creatively, but made us creatively. I think color is one of the many things we have been given to delight in, so go ahead, explore it, enjoy it and wear it — in fact, wear lots of it!