Norwalk Thai food impresses with authenticity
Food guru, Anna Frost, reviews local Thai hot spot Renu Nakorn.
From the moment I sat down and glanced at the menu of the Norwalk Thai restaurant, Renu Nakorn, I knew I was about to experience something good. Interestingly enough, I didn't even have to open the menu.
The cover page of the slim, laminated booklet that houses mouth-watering choices announces to customers that Renu Nakorn has been reviewed and lauded by none other than The New York Times, Los Angeles Times, GQ Magazine and Los Angeles Magazine. A large, but tasteful, collage of articles and reviews from these and other publications serves as wall decoration, flanked by paintings of Thai cuisine. Clearly the owners are proud of their establishment and the praise it has received. They have great reason to be.
The goldenrod-yellow walls pair with light classical music to create an air of elegant, yet casual, tranquility. Even when the restaurant is full the noise level is never unbearable, making Renu Nakorn a place to relax and enjoy conversation with good friends. It also is the place I would take my family if they visited the area. The simple, light atmosphere lends itself well to enjoying the food, to which the word flavorful does not even begin to do justice.
Our table ordered two different curries, a noodle dish and a beef and vegetable dish. Thai food is ideal for sharing a family style meal where everyone can serve themselves from various shared plates heaped with fragrant food. Renu Nakorn provides plates at each person's place for exactly this reason. However, if you would rather stick to your own dish, that is just as well.
I wanted to drink the red coconut milk-based sauce that completes the duck curry. Chunks of pineapple and pieces of duck meat swim in this sweet, spicy and refreshing sauce. Once you pour the sauce, meat and vegetables over rice, you might experience an urge to continue eating even after feeling full. I ordered it medium, which would satisfy the average spicy food lover, but as a long-time hot sauce lover, a level higher would have been delicious too. A word to the wise — the heat builds over time, so if you find it wanting at first bite, take a few more.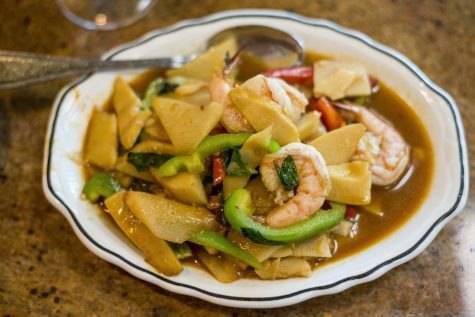 The bamboo shoot curry dish lives up to its name. More prevalent than the meat that was mixed in, the bamboo shoots are perfectly cooked — crunchy and somehow not soggy after soaking in yellow curry. The sauce is light, but not at all boring, and it does not overpower the flavors of the bamboo and the other vegetables in the dish.
The Mongolian beef was accompanied by a brown, savory sauce that exceeded any dish of its kind that I have previously consumed. The sauce was not thick and overly sweet, but instead, it let the beef and vegetables do most of the talking to the palate.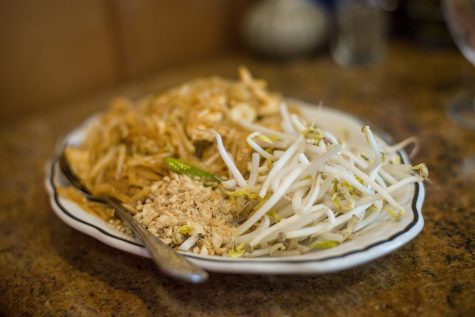 Last, but never least, were the pad thai noodles. A classic and often cliché dish that first comes to mind when Thai food is discussed, Renu Nakorn's pad thai is more than memorable. The peanut sauce is perfectly executed, putting all bland and goopy imposters to shame, and it imparts a light flavor to the rice noodles, bean shoots and chicken.
For dessert, the menu offers several options, out of which we chose the coconut milk ice cream and fried bananas.
The ice cream is dairy-free, since it is made solely from coconut milk, and it's an icy way to refresh yourself after a spicy dish. In a previous column article, Murray Decker, associate professor of intercultural studies, called the coconut ice cream proof that God's goodness and grace can still be found in our fallen world. I would be hard-pressed to disagree with such an assessment.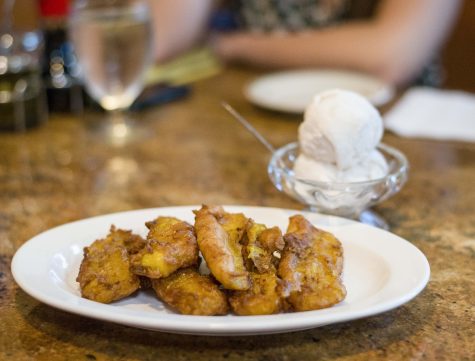 OLIVIA BLINN
The tempura-battered fried bananas are a wondrous combination of taste and texture. Warm, crunchy and soft, the banana flavor is at its best in this dessert. Paired with a bit of coconut ice cream, they border on culinary nirvana.
The service at Renu Nakorn is impeccable for a casual sit-down restaurant. The servers are attentive and willing to answer any questions about the menu items, and the food comes out promptly. I was especially impressed that our server offered to put the ice cream back in the freezer when she noticed that we were waiting to eat it until the bananas arrived. These simple gestures show that they care about their customers' experience as much as they do their food.
Renu Nakorn is also a great place for those with dietary restrictions, especially in the gluten and dairy departments. Like the pad thai, many noodle dishes feature rice noodles, and I did not see any entree menu items that contained dairy products. It is always a delight to come across a cuisine that naturally features light, clean food. Even more so, it is a pleasure to find a restaurant that does the cuisine justice, as Renu Nakorn does.
Renu Nakorn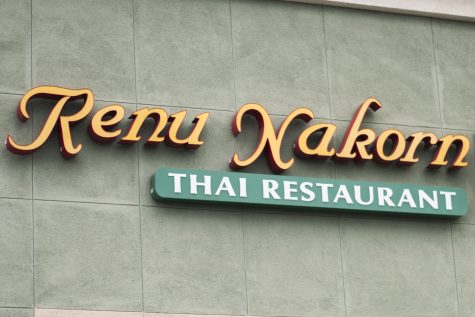 Rating: ★ ★ ★ ★
Food/drink: Noodle dishes; curries; meat, poultry and seafood; Thai iced tea
Prices: $8 – $20
Hours: Monday – Thursday, Sunday: 11 a.m. – 9:30 p.m.; Friday and Saturday: 11 a.m. – 10 p.m.
13019 Rosecrans Ave, Suite 105
Norwalk, CA 90650
(562) 921-2124