Simplicity, colors and layers
Daryn Daniels gives her fashion advice in this new blog.
Since the last few days of summer are sizzling out and fall is quickly coming upon us, all things comfy, cozy and pumpkin flavored have entered the scene. I am sure by now you have all gotten quite excited about the upcoming sweater weather and the return of the infamous pumpkin spice latte. I know I have. Now is the time to dive into all things fall fashion — that means sweaters, boots, button-ups and more!
It's important to start with covering the basics. I have said it before and I will say it again: I am a firm believer in a good pair of jeans. They are a wardrobe staple — as in, your wardrobe will fall apart without them. Yes, it's that serious. No ifs, ands or buts about it — every girl should have at least one pair of nice, dark wash, mid-rise or high waisted skinnies she feels good in.
The jeans here are a pair of BDG's I just bought from Urban Outfitters, and I'm already in love with them. The best part about them? They are plain, simple and inexpensive. There's nothing on the pockets, they fit well and they have a little give to them which is always nice once the holidays roll around. Plus, they come in a ton of different fits, rises, washes and lengths, so no matter what style shoppers are looking for, they are bound to find something they like.
They sell for $59 normally. But, waiting can pay off since they typically go on sale for $39 for at least a few days each month. If the wait is too long or the 60 bucks is too, check the sale rack. It always has jeans and, who knows, they might be just the right size and price. I have found quite a few pairs of 10 dollar jeans on the sale racks there, so I highly recommend a little rummaging.
Now that the basics have been addressed, let's pile on the rest. Literally. That's right, we're talking layering. If you are any bit like me, the word "layering" alone gets you so excited for fall that you can already hear the football fans cheering and the leaves crunching under your feet.
Fall is by far my favorite time of the year for a few reasons: You can finally wear a scarf, a sweater, a beanie and boots all at once and no longer be concerned about having a heat stroke. Hallelujah!
On that note, let's talk layers! To pull together a simple fall outfit, start with a pair of dark skinny jeans and boots on bottom, then toss a colored button-up on top — easily found at Forever 21 — and layer it with an oversized sweatshirt. To keep it looking stylish and not sloppy, opt for a sweatshirt that has some sort of detail or color. Look for one that can almost pull off being a sweater, like this one from Nordstrom B.P.
There are a few key things going on in this outfit that make the layers work. One is the color combination. Here is a great example of mixing a jewel tone with a warm tone, while playing up the natural colors of the season. Since the dark teal and burnt orange are earthy colors, they give the outfit even more of a fall feel. Keeping the layers pretty plain gives wiggle room for an added pattern without overwhelming the look — in this case, the floral clutch.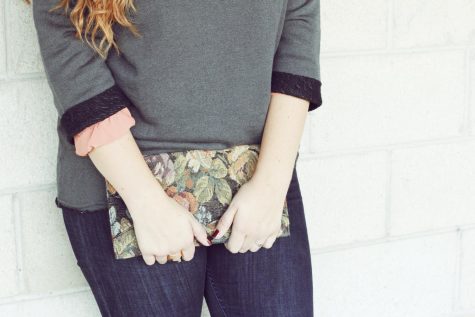 The clutch is the perfect example of how a spring or summer pattern can transform into an autumn one with a simple change of color scheme. It brings movement, rather than chaos, to the rest of the outfit. The floral print also turns the clutch into a statement piece, which allows the rest of the outfit to give off the impression of sophistication while still sticking to super basic pieces. And that is all a girl could want, right? — for people to think she looks stylish and cute when really all she is wearing is a glorified sweatshirt and jeans?
The last little trick to make this ensemble look trendier can be found on the hands. It might be the Portlander in me, but I love rings, and I love lots of them. This summer, I discovered midi-rings — those crafty baby rings that sit above your knuckles — and you better believe those are coming with me into fall. Though they are little, they are mighty. Slip on one or two of those, and your style points boost effortlessly. They are such a dainty accent, but they really do make a big impact when it comes to the overall look of an outfit.
Nail polish also offers the same small yet bold accent. Slap on a quick coat of a dark burgundy or brown, and you will instantly feel trendier. Try it. I dare you.
Keep it simple. Keep it colorful. Keep it you. And remember: there is nothing wrong with keeping it all.
Happy layering, La Mirada.
http://shecleansupnice.wordpress.com