Core of returners versus new opponents
Women's basketball gears up for the start of their first NCAA Pacwest conference season.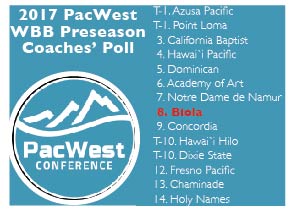 As temperatures finally start to drop and fall colors emerge, excitement inside Chase Gymnasium increases as the beginning of Biola women's basketball's first NCAA Division II season quickly approaches.
A few changes
The team has undergone few changes from last season, with two notable exceptions. Guard Annie Park and forward Joclyn Kirton have both graduated, and they each averaged over 14 points per game in their final season at Biola. Park proved a true weapon from beyond the arc, shooting .399 for the season from the three-point line, while Kirton brought a physical presence to the post position, nabbing second in the Golden State Athletic Conference in rebounds for the season.
"I think everybody on the team is going to step up, like nobody can't not step up, just because we're going to [Division II] and everyone is stronger," said junior guard Danielle Kennedy.
While much of the team's core remains the same, more good news can be found in the return of four players who had trouble with injuries last season. Kennedy, sophomore guard Brenna Khaw, sophomore forward Emma Newman and senior guard Khadidja Diakite all stand ready to step back on the court and hopefully start the new season strong.
Joining the returning players are two new freshmen, forward Jazz Benn and guard and forward Danita Estorga. Estorga will sit out this season due to injury, but Benn will likely see good playing time in the rotation of the Eagles' four main forwards.
Young but experienced
In one sense, Biola has a young team, because the majority of players are underclassmen, but in another sense the Eagles have experience because nearly all of them played together last year. Another positive remains in the fact that Park, though graduated, will return as assistant coach under head coach Alan Nakamura, who is starting his third season.
The PacWest conference released its preseason coaches poll on Oct. 25, which predicted Biola would take eighth place in conference, with Azusa Pacific University and Point Loma Nazarene University tying for first in the poll.
"The whole Pacwest conference is very balanced, there's not an easy game on our schedule," Nakamura said. "So it's going to be a little different from GSAC in that way, in that every game is going to be a challenge for us."
The team hopes to place high enough in conference to make the National Christian College Athletics Association tournament, due to the fact that Biola cannot reach the NCAA postseason in its first two years of membership.
The new season officially kicks off on Nov. 4 at 1 p.m. with the annual alumni game followed with a road exhibition matchup against the University of San Diego Toreros on Nov. 7 at 6 p.m.