Biola students create non-profit business out of stickers
Generous Generation seeks to empower others to give, even if the amount is small.
After a tsunami struck Indonesia in 2018, president of the Student Alumni Association Sarah Hartono successfully launched a sticker campaign to raise funds for victims. Since then, Hartono has launched a number of other sticker campaigns, which turned into a small business named Generous Generation. The business strives to fundraise for partnered causes while also providing supporters with stickers in return.
EMPOWERING THE GIVER
Although people did not have much to give, according to Hartono, the community around her was inclined to be generous.
Hartono related back to 2 Corinthians 9:7-11 and the parable of the widow's offering found in Mark 12:41-44 which demonstrates that God does not look at the amount a person can give, but rather how willing they are to do so. 
"Why do we have to wait until we've made it in life or the world's definition of success to give?" Hartono said. "We can give from where we're at because it's from the heart and God sees our intention when we give, more than the dollar amount."
Hartono hopes that through Generous Generation others will be encouraged to give, even if it is not much. Donors are encouraged to give funds to any cause that Generous Generation is partnered with, instead of being told which cause to give to.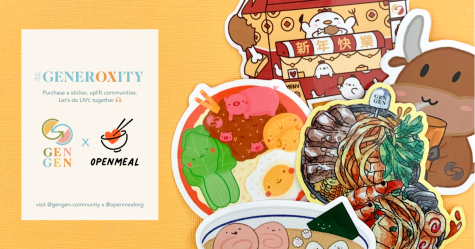 CURRENT CAMPAIGNS
In honor of Lunar New Year, Generous Generation has partnered with the non-profit organization OpenMeal, according to Hartono. All proceeds will be donated to OpenMeal to provide meal credits to low-income families at restaurants that have been impacted by COVID-19.
They have also partnered with Biola's SAA to raise funds for former student Nathan Lewis, who suffered trauma in a collision last year. All donations will be donated to the Lewis family.
"We're fundraising because we believe that once you're a Biolan, you're a Biolan for life," Hartono said. "And even though it happened a year ago, we don't forget about people."
WHAT IS NEXT FOR GENEROUS GENERATION?
After the end of the campaigns, Generous Generation will take a break in order to get consultation from their advisory board. Even though Hartono is unsure of what new ventures her team will seek in the future, she explained they are in it for the long run.
Hartono gave the example of being camels versus unicorns. In the startup world, a successful startup is called a unicorn, according to Hartono. She explained that although they are flashy and fast-paced, there is a likelihood of burnout. She wants to be more like a camel.
"When they drink [water], they drink a lot, but it sustains them through even the harshest climates," Hartono said.
The road ahead is long for Generous Generation, but Hartono's hope is to build a long-lasting, sustainable business that sticks to their core values.
"How we do that might change, but we want to continue redefining generosity and making it accessible," Hartono said.