Softball splits doubleheader against Hawaii Hilo
The Eagles battle the Vulcans in their first doubleheader of the week.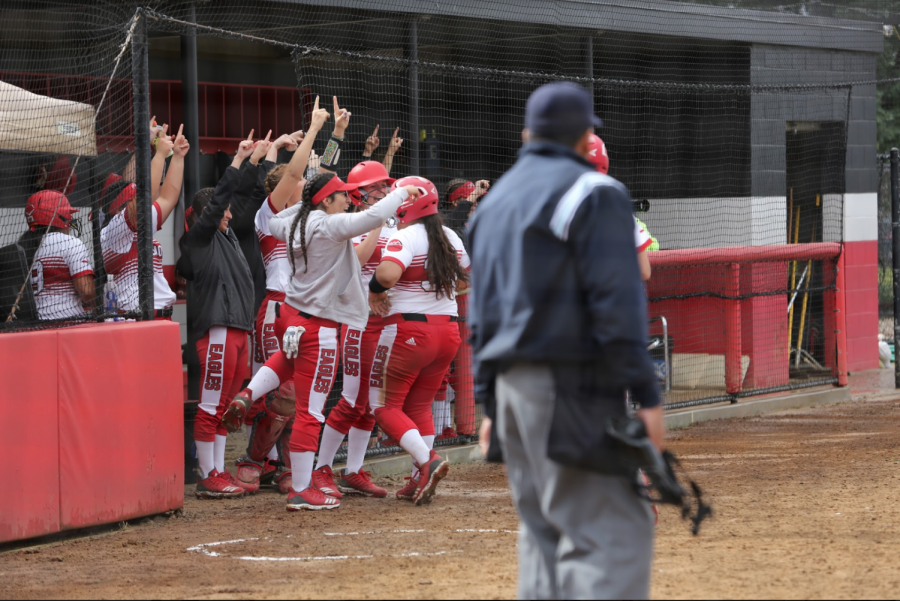 Softball kicked off yet another doubleheader at Freedom Field against Hawaii Hilo University Tuesday night. Biola took the first win, 10-5, however, the Vulcans won the high-pressure contest in the second game, 11-3.
EAGLES FLY HIGH
The Eagles came out with a presence, putting them up 3-0 at the bottom of the fourth. Senior Areana Ramos hit her first homer of the season to help the Eagles soar to a 4-0 lead. Sophomore pitcher Paige Austin produced multiple outs from the mound in clutch situations.
Hawaii Hilo quickly turned the game around and tied the ball game at 4-4. However, the Eagles were able to get some stops to end the hot progression from the Vulcans.
Freshman Madison Blossey reached first by an error from the Vulcan's second baseman, allowing senior Missy Poti to score, making it a 5-4 ballgame. The runs did not stop there. Biola was able to bring in two more runs, making it 7-4.
Things changed quickly when junior Kayla Neff came up to the plate and launched her sixth homerun of the season, putting her team up 10-4.
"I think we came out really strong. Everyone played off of each other's energy. We did really well with picking each other up. I just thought we had really good energy that first game," Neff said.
VULCANS SHOW DOMINANCE
The second game of the night started off slow. The Vulcans quickly caught fire, bringing in eight straight runs in the third inning alone. Hawaii Hilo had seven hits and only one error to advance them to this 8-0 lead.
"We made a lot of mental mistakes. We kinda beat ourselves up a bit. We talked about just coming back with a different mentality tomorrow, not just getting walked all over, but really just competing and doing everything we can. We need to take control of the situations we are put in and not letting the game take advantage of us," said head coach Nikki Urida.
The girls did their best to regain momentum. Senior Andi Hormel hit a single that allowed sophomore Tori Apodaca to score a run for the Eagles during the bottom of the fifth.
However, the Vulcans snapped back with three runs, making it a daunting 11-1 ball game. Biola stood stunned the remainder of the game, only scoring two more runs to end the night with an 11-3 loss.
"We are coming out strong tomorrow. We don't want them on our field, that's our mindset. We are going home and thinking about the way we played the first game and how well we did and sticking with that and pushing that second game behind us," Neff said.
The Eagles (10-10 overall, 5-5 PacWest) will return to Freedom Field on Wednesday to take on Hawaii Hilo in another doubleheader at 4 p.m. and 6 p.m.
About the Contributors
Andi Basista, Sports Editor
Andi Basista is a junior journalism major who loves basketball, underground music and is highly appreciative of a good beach day.

[email protected]



Originally from a small farm town in Ohio, I have put aside my corn shucking gloves to embrace a new life in the Angel City to study sports journalism. It is true what they say about culture shock and LA traffic. I am used to being late to work because of getting stuck behind a John Deere tractor, but now it is because of gridlock...