The Beginnings of Restoration
Students reflect on how the Spirit brings renewal out of shame.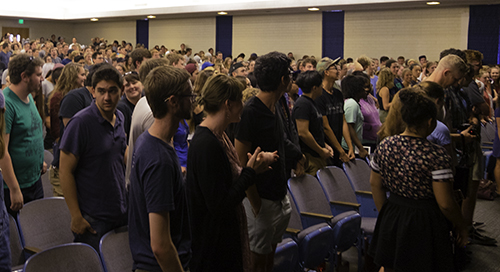 The morning began with worship and healing. As the 81st Annual Torrey Memorial Bible Conference came to a near close, students gathered in Sutherland Auditorium for Prayer and Reflection. After the previous day's efforts to acknowledge the shame present in the hearts of believers, this second to last session sought to begin the process of restoration.
Chad Miller opened the time by discussing Romans 8:26-39. Miller explained that, as the  words of Paul would stipulate, the human heart has the ability to have unity with the Spirit. However, sin still exists in our hearts, some of which we simply do not understand or see. How can healing begin when we hide the full knowledge of our hurts even from ourselves?
This is where the intercession of the  Holy Spirit comes in. As Romans 8:26b says, "For we do not know what to pray for as we ought, but the Spirit himself intercedes for us with groanings too deep for words." The Spirit in our hearts, entering in through the work of Christ, knows the sin and the shame that we ourselves are ignorant of and is able to relate these to the Father. Miller pointed out that as the Spirit does this, the Father then brings about situations in our lives that bring the shame out and replace it with more of Himself. God restores us.
Viewing the key passage of Romans 8:26-39 in the light of the Holy Spirit replacing our shame, a time of reflection and prayer began. How could the acknowledgement of shame so far in this Torrey conference lead to the renewal of our hearts? How does God use the context of our lives to make us more like Himself? What does being known by God really look like?
Afterwards came confession. This, Miller related, does not mean just feeling better. Rather, in confession, God can restore us through the Holy Spirit. After all, as Romans 8:33b relates, "It is God who justifies." We are freed by him, and him alone.
Continuing with the theme of restoration, Romans 8:39 fittingly reminds believers that nothing "will be able to separate us from the love of God in Christ Jesus our Lord." Yes, shame still exists, even in the hearts of believers. Yet, the relentless love of God continues to heal the wounds opened by the recognition of our brokenness.
As Torrey 2016 comes to a close, life will go on, but so will the continual restoration of our hearts by the Spirit.