Show vulnerability in the midst of shame.
In session A, Curt Thompson discusses the act of abandoning shame and taking on vulnerability by testimonial discussion.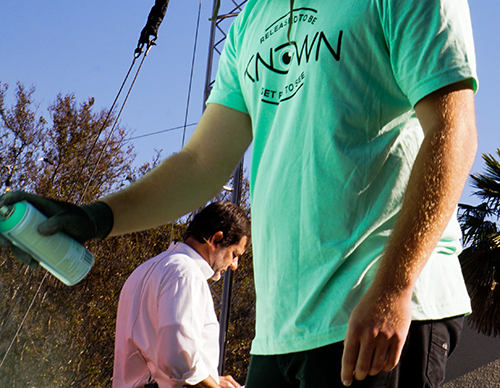 A myriad of students gathered Wednesday morning for Session A of the 81st annual Torrey Conference.  Volunteers worked hard to rapidly wipe down the dew-covered chairs before the worship team began the conference with inspiriting worship. The entire session consolidated the theme of shame, vulnerability, and how to become truly known.
Students heard from Virginia Johnson who shared her story involving the shame placed on her after her husband's suicide, paired with judgement from her former church. Johnson found comfort in a new friend who truly listened to her. Now, Johnson thrives in the goodness of the Lord and His service. Jason Hitchens, the emcee, performed a Spoken Word poem before announcing the main speaker, Curt Thompson, to the stage. While Thompson spoke, student artist Brandon Taylor provided listeners with a spray paint demonstration. He painted the words 'joy,' 'goodness,' 'evil' and 'shame' for students to view throughout the session.
Thompson administered the idea that life proves itself to present difficulties in the midst of the need to experience life in community. Thompson continued to elaborate his point that we all have a story and the story began before birth. We tell our story because we want to be heard and we long for our story to be validated. We need to flourish is the presence of other people in order to be satisfied. Thompson discussed how, even in Genesis, vulnerability is a necessity, especially with individuals who display vast differences from us.
Following, Thompson raised the most vital question of the day,  "In what story do you believe you are living?" In this journey for goodness, beauty, and joy, Thompson implores us to try and erase painful memories embedded in our story, which involves covering up our true self. Shame does not necessarily stem from someone else placing shame on you. Most of the shame one feels cultivates in the midst of introspection.
Thompson emphasizes the idea that what you focus on is what you remember and anticipate. What if you are paying attention to the voice of shame? Instead, Thompson suggests to focus on vulnerability and seek others out and find a confidant. Self-awareness exudes vulnerability and God knows this. Jesus' birth and crucifixion displayed ultimate vulnerability. In the same way God rescued Jesus out of the tomb, He can rescue you from your shame.
What would you do right now if it became impossible to feel shame? God came to you and He will never let you go. We can take a part in creating a world of goodness, beauty, and joy with God when we abandon shame, take on vulnerability, and share our stories.