Not in it for the selfie
Prashan de Visser informs audience of how we are to transform society.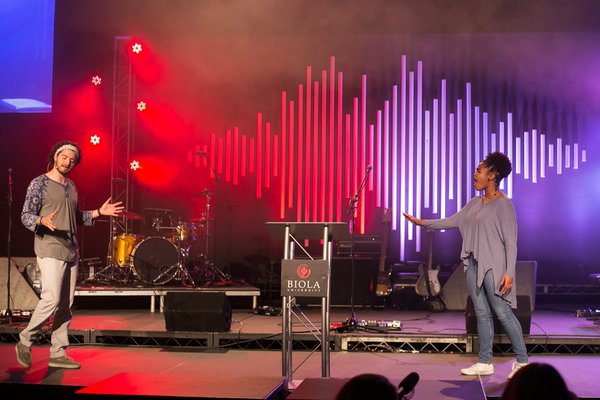 Prashan de Visser addressed the packed gymnasium tonight at the night session for Biola University's annual Missions Conference, calling the student body to respond to the call of Christ and thus transform their surrounding societies.
What is your response?
Visser asked the audience this question after reading the commission of Isaiah 6, which describes the glorious awe of God's holiness and praise in heaven. With angels singing and heavenly doorposts shaking, Isaiah realizes his utter inadequacy and sinful deprivation before a perfect God. Despite Isaiah's cry of realized woe and dread, a cherubim angel burns his lips with coal, signifying restoration and new, godly purity. He then immediately answers God's call for someone to go and teach the gospel to the world.
Many students find it difficult to respond as Isaiah did in this Old Testament commission. Why is this? Visser claims the reluctance of millennials to go out and evangelize is due to fear of inadequacy, such as an overwhelmed mindset of the believer's sins and inabilities, as well as a fear of being negatively labeled as a fanatic for Jesus.
Visser's simple answer to both of these responses is as follows: "There's too much at stake to be half-hearted with who you are."
In today's world we clearly witness the beauty and holiness of Christ. Because of this, we compare ourselves to others' abilities and doubt our own. We may ask ourselves, "Will I ever be good enough?" This binding and limiting mindset destroys the spirit of power, love and self-discipline Christ has instilled in us. And this fear is nothing new. Paul reminds Timothy, who doubts his own call to serve, in 2 Timothy 1:7 that he is "not called to a spirit of timidity."  Because of Christ we can live a life pleasing to God in spite of our weakness.
The fear of judgment and ridicule from others also plagues believers today, limiting their work for Christ. We often think, "What will others think?" How can we think this when the perfect Christ was ridiculed for our sins and paid the ultimate price? We should be fanatics for Christ, and unashamed of this title.
Visser asked, "If we truly believe that Jesus is the way, the truth and the life, and that our loved ones desperately need him, how can we keep it in our hearts? We are too worried of looking like a fool while millions of people go towards a Christ-less eternity."
Ultimately we are not on this earth to look good, but to break the shackles of timidity and give glory to God in our proclaimed words and actions.
We are not in it for the selfie – we are in it to transform society.