Biola builds an EPIC community
Student Care's process helps students overcome their struggles.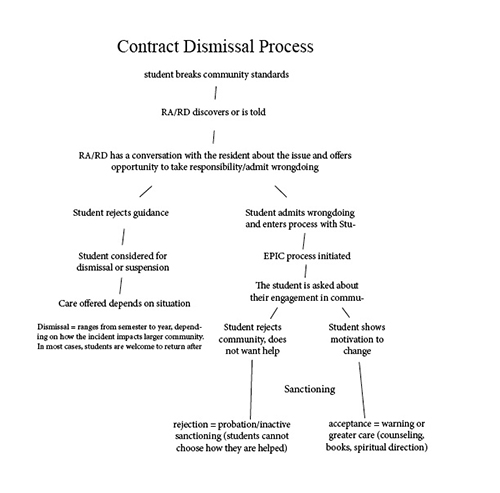 Many students admit to undergoing struggles such as alcoholism, drugs and addictions every day. However, Biola's community does its best to care for students with any problems they may face.
Helping students find their place
Student Care believes the code of conduct is a great way to build community.  It allows students to know what is expected of each other. This helps them engage in the policies of Biola's contract.
"As students are obligated to stick with rules and regulations in order to provide a safe environment for everyone, the contract establishes a respectful campus," said Sandy Hough, associate dean of Residence Life and Care.
However, there are times when students face a challenge or issue that violates Biola's contract.
In these situations, it is important for students at Biola by learning from their mistakes . The Student Care process — called EPIC which stands for engagement, personal development, interpersonal development and community membership — is a way for students to talk about their personal and interpersonal relationships. It not only helps students find their place, but highlights the desire to help students succeed not only academically but spiritually during their time at Biola.
The first step of the student care process deals with resident advisors and resident directors in each residential hall. When an RA notices a student is experiencing a certain issue, they will have a one-on-one conversation.
"Our role is having a conversation and figuring out what happened and getting care for the resident," said Cristina Schmitter, junior public relations major and RA of Alpha Hall.
After the RA gathers information about the specific issue, they report it to the RD. When this process is done, the information is then brought to Student Care at Biola. EPIC then enforces community membership of the struggling students as they interview each and discuss the issue.
communicating love
"EPIC is how we enter into a conversation with a student," said Sandy Hough, associate dean of Residence Life and Care. "We want to talk about engagement and connection with Biola."
As EPIC asks students about their engagement with Biola and if they have motivation to change, help is provided for them. Certain methods that could come into play are counseling, books pertaining to their struggle or something the student suggests. In these situations, it gives responsibility to the students to be able to come up with a solution to their problem. Based on the variations of the issue, they have sanctioning, which is a warning or a probation. The methods of sanctioning can also differ based on the situation.
If the problems lead with probation, an inactive sanctioning is enforced — a student will not be able to choose which method they use. This also takes effect in cases of dismissals, which is when a student is dismissed for a certain period of time which can range from a few months to a year. A students can also be dismissed from the school depending on the situation.This only happens when their issue has a larger impact on the community, and if the student needs more help than what is provided. Most of the time, after students get the help they need, they are welcome to come back. Exceptions can happen when students get counseling or go to rehab for their situations.
"We just want to make sure we are communicating love and show care for them," said McKenna Jones, junior sociology major and RA of Alpha Hall.
Every student has their own personal struggles and Biola wants to build a community not only safe for everyone but provide help for those who may need it. This way, students in the community can feel loved and cared for.