The pandemic's impact on higher education enrollment
Biola responds to decreasing enrollment rates.
Almost three academic school years have passed since Biola transitioned to online instruction in March 2020 and the repercussions of this move contributed to a drop in undergraduate enrollment. In addition to surging COVID-19 cases at the end of 2021, colleges faced severe staff shortages, high absenteeism rates, quarantines and rolling school closures. 
A LOSS OF STUDENTS
Due to the required online schooling in early 2020, Biola saw a massive change in the way professors, students and faculty experienced the college educational system. Former freshman journalism major Samantha Shaw left Biola due to the high prices and a changed perspective on higher education.
"While in the online phase of Biola learning, I felt that I wasn't really getting the full Biola experience of having in-person fellowship with people," Shaw said. 
As a result, Shaw transferred to an online community college and searched for job opportunities. 
"From just the build-up of bills and hours of working, I couldn't really commit," Shaw said. 
A NEW NORMAL
Vice President of Enrollment, Marketing and Communications Lee Wilhite explained the university's continued effort to recruit incoming freshmen.
"We are always assessing where new academic programs we could consider launching relative to the future job market," Wilhite said.
The President's Administrative Council began preliminary discussions on decreased enrollment rates before the pandemic started. Wilhite projected a seven-year decline and eventual "cliff" in 2025-26 concerning the number of high school graduates in California and across the country.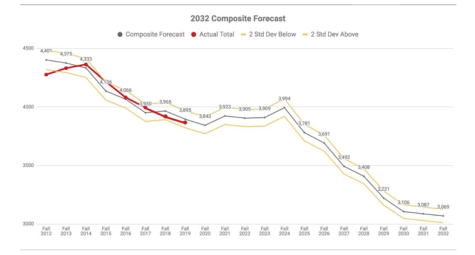 "I think what the pandemic did was kind of accelerate that cliff maybe a little bit earlier," Wilhite said
The traditional view that college leads to success began to change before the pandemic, with several young adults considering alternative learning options in lieu of a four-year institution.
 "It seems that there was a general uncertainty across the board," Wilhite said. 
He explained that Biola is considering more creative options to set the university apart from others. New and prospective students can find some of Biola's largest scholarships, more than 300 programs from the undergraduate to doctoral levels and a virtual tour allowing prospective students to experience campus from home.