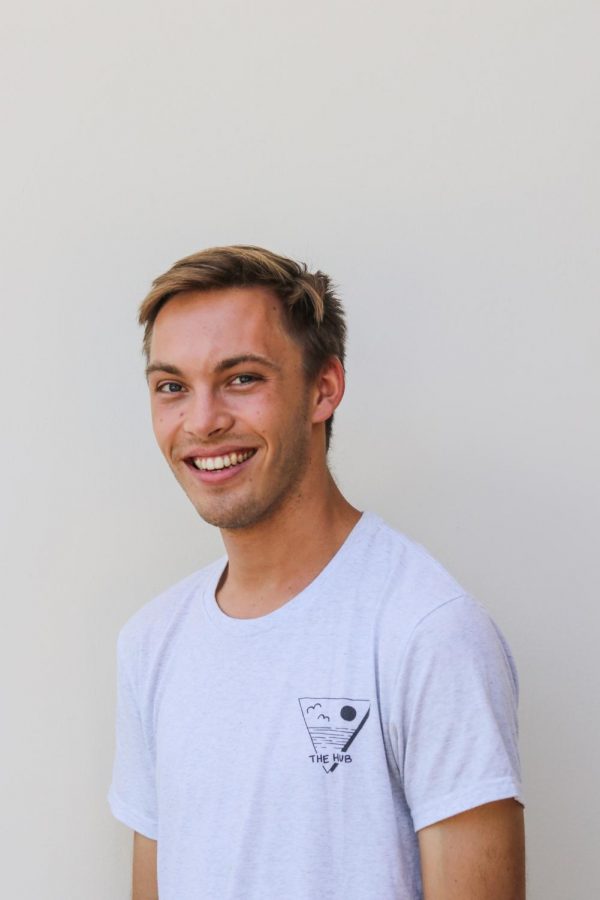 Marc DeJager is a senior communications major who has many hobbies, too many to list in a short bio.
Hello dear reader! I am glad you took the time to read this bio and learn a little bit about me. I grew up in San Jose, California, the middle child of five. Whatever time I had free when I wasn't working on school or competitive speech and debate I usually spent hiking, reading fantasy, listening to music or exploring the beach and the mountains. If you couldn't tell, I have a lot of interests and hobbies. Since I came to college I have spent most of my school year heavily involved in theatre and film projects and hanging with friends.
I have always been fascinated by current events and the politics and philosophies they involve. I spent the spring of my junior year as an intern in Washington D.C., which gave me a renewed interest in current events and news. In my time at the Chimes, I hope to tell stories that illuminate new perspectives, explore new ideas and give you something interesting to read every week or so.
I am committed to always learning, always discovering, and always checking my own biases. If you ever have any problems with anything I write, please reach out to me with your thoughts, and I will gladly listen to your perspective. Blessings to you all!
Marc DeJager, Staff Writer (Fall 2019)
Feb 07, 2020

Replace the Electoral College with the popular vote

(Story)

Jan 14, 2020

Conflict between Iran and the US is far from causing World War III

(Story)

Dec 13, 2019

You will always love yourself

(Story)

Dec 06, 2019

President Donald Trump should not be allowed to "Make America Great Again"

(Story)

Dec 02, 2019

The U.S. must support democracy in Hong Kong

(Story)

Nov 18, 2019

The U.S. allows drug cartels to destabilize nations

(Story)

Nov 13, 2019

Theater appreciation creates live connection

(Story)

Nov 01, 2019

Trump's foreign policy has more losses than wins

(Story)

Oct 30, 2019

Health care should be a personal choice

(Story)

Oct 21, 2019

The Christian Kurds have been condemned to death

(Story)

Oct 18, 2019

Affirmative action discriminates against minorities in colleges

(Story)

Oct 14, 2019

Azadî bo Kurdistanê: freedom for Kurdistan

(Story)

Oct 11, 2019

Blessed are the lonely

(Story)

Oct 04, 2019

Youth climate change protesters are misguided

(Story)

Sep 30, 2019

Meaningful purpose in meaningless sanctions

(Story)

Sep 25, 2019

The party who cried impeachment

(Story)

Sep 20, 2019

Mass immigration destabilizes nations

(Story)

Sep 16, 2019

When disaster strikes, the locals know best

(Story)

Sep 14, 2019

How to find balance between acceptance and improvement

(Story)

Sep 06, 2019

Introverts must put on the extrovert mask

(Story)