Dusting off the Ashes
Biola students, athletes join to help fellow classmates affected by fires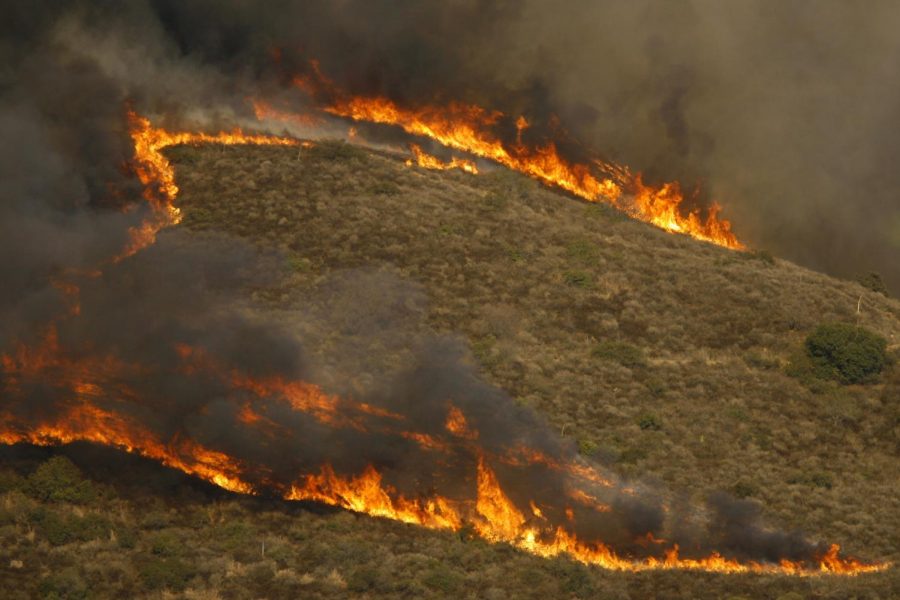 Wildfires spread across Southern California last week. Ashes fell as the sun shown bright red, and the sky was lightly filled with smoke. San Diego, Irvine, Malibu, Lake Arrowhead — it seems like there's no end to the list.
Many students at Biola, such as sophomore Ashley Davenport, were affected by this tragedy as their families were evacuated. Davenport wasn't too worried about the issue until a friend notified her about her family's evacuation in San Diego. Luckily, the evacuation was optional, but "knowing that everything about [her] home was turning to ashes" still frightened Davenport.
"I think I called my parents five or six times a day, just to make sure nothing else had changed and that they were still at the house," Davenport said. "My girlfriends and I were also watching the online news in San Diego every day in all of our spare time, just to make sure nothing had changed."
"San Diego recovered four years ago from the cedar fires, and I know that San Diegans will come together and somehow overcome this too," Davenport said.
Another student, senior Bryna Neill, talked of the people around her, her uncle, great-aunt and friends from high school, who were also evacuated in San Diego. Neill emphasized the fact that because her uncle owns horses, it was very difficult to take care of them, since they had to be "relocated twice." She described some of the hardship the victims faced in the destruction, such as sleeping in churches, fields, parking lots, stadiums.and various other places.
Neil said it was especially difficult being separated from her family since the phone lines were down and the freeways were closed.
"[Being away is] hectic and uncomfortable," she said. "It's frightening to not know how your family's doing." Consequently, Neill suggested last week that Biola respond as a community to contribute to families in need of supplies. She sent an e-mail to Associate Athletic Director and head women's basketball coach, Ken Crawford, asking how they could help.
Crawford immediately contacted the Athletic Association, and they began to brainstorm. They talked with Spirit Board of Associated Students, and AS made announcements during chapel, coordinated with the Red Cross and distributed posters encouraging students to help the effort by donating anything from food and toiletries to blankets and clothing.
With the quick response of the student body, dorm lobbies were filled with gallons of water and non-perishable food, and facilities donated a truck to distribute the goods to the Red Cross.
The amount of donations showed the generosity of the Biola community, according to Neill. She also said Crawford played a "huge role" in the organization.
"We couldn't have done it without him," she said.
The sports team helped in loading the goods, according to Crawford. Instead of paying an admissions fee for the women's basketball game last Saturday, Crawford thought it would be a better idea to "encourage donations to the Red Cross."
"It was neat to see everyone mobilize quickly," Crawford said. "We weren't sure of how much we were going to get or if people would respond, but we got a great response from students and staff here at Biola."