Bible class to explore disability
Theology of Suffering and Disability scheduled for spring '08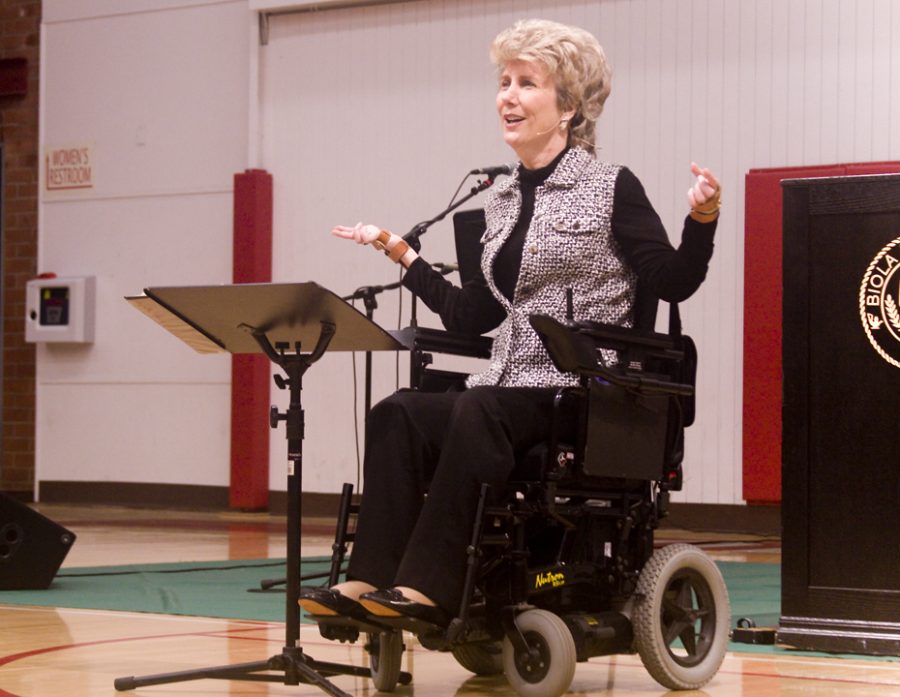 The Bible department is adding a one-of-a-kind upper division course next semester — Theology of Suffering and Disability. Biola will be the first school in the nation to offer such a class, quadriplegic Joni Eareckson Tada said in chapel on Sept. 19.
"Our churches don't know what to do," said Tada, referring to Christians' marginalization of the disabled, a population that is only growing.
There are over 54 million people with disabilities in the U.S., according to the Office of Disability in the U.S. Department of Health and Human Services. The main categories of disabilities are intellectual, physical, emotional and learning.
As a guest speaker, Tada raised awareness that the disabled are among the most under reached groups in churches. She emphasized that because everyone experiences suffering in some way, people have more in common with the disabled than they think.
The Theology of Suffering and Disability will be taught by Dr. Cathy McReynolds, adjunct professor at Biola and director of public policy for Joni and Friends, Tada's renowned ministry to disabled people.
Though McReynolds does not suffer from a physical disability, she said she noticed her own heart condition after witnessing joy in the lives of the disabled. They make us aware of God's presence and suffering in a way able-bodied people can't understand, she said.
"[I realized that] I was the one who was disabled," McReynolds said in an interview with The Chimes.
McReynolds recalled an experience at a retreat when she helped an autistic boy play games by holding him up. Because the boy was bigger, she struggled to support him. McReynolds said a teen with cognitive disabilities came up behind her and helped her support the boy with autism.
"I got you, I got you. I will not let you go," he told McReynolds.
To McReynolds, that scene is a metaphor for the new Bible class. Students will learn about the kingdom of God from those with disabilities. They are evidence of living in a fallen world with joy, she said.
The course will explore the ways people affected by disabilities provide the Christian community with a model of dynamic spiritual transformation, according to the syllabus. By the end of the course, students should have deeper understanding of the disabled community and will learn to embrace their own brokenness.
The class will involve conference calls with Tada and will use resources from Joni and Friends International.
Such training is especially helpful in light of an ever-increasing population of people with disabilities.
"If we consider people who now have disabilities, people who are likely to develop disabilities, and people who are or will be affected by the disabilities of family members and others close to them, then disability will affect the lives of most Americans," according to The Institute of Medicine in April 2007's "Future of Disability Report."