The Eddy returns
Alumna O. Bree Mays and Jordy Searcy rock Fireplace Pavilion.
On April 21, Jordy Searcy and alumna O. Bree Mays took to the stage to put on The Eddy for the first time in two years. Mays opened the event with a few stunning and unreleased singles, while Searcy played some well-loved hits like "Molly" and "Love and War in Your Twenties." 
PERFORMANCES  
Students gathered at the Fireplace Pavilion to enjoy the live music. The event included a donut board, a raffle, refreshments and a photo booth for attendees. Mays opened with a live band, playing four songs, the most notable of which was "Blonde," a song that has not been released yet. Mays graduated in 2021 with a degree in cinema and media arts, with an emphasis in screenwriting. 
"My favorite part about performing is that it's different every time," Mays said. "Every time I sing [a song], a different person is connecting with it differently…just seeing people respond to things that you've written…It's a nice feeling."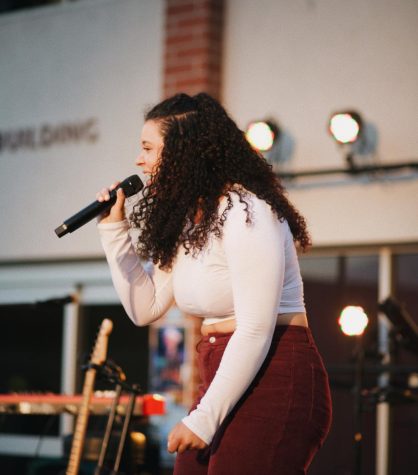 Half an hour later, Searcy took the stage. He opened with stunning vocals in "Love & War in Your Twenties," a song that has garnered 30 million streams on Spotify, released in 2018 as a part of his "Dark in the City" album. He commented on the spirit behind the song in a preliminary interview.  
"For a lot of that season in my life…I was working really, really, really hard on music," Searcy said. "I think that song just came from a place of realizing people are actually the most important thing about life." 
He followed the love song up with "Molly," a song about heartbreak that is currently going viral on Tiktok. He assured audiences, however, that  the song is entirely fictional.  
STUDENT REACTION 
The pavilion was filled with students, crowding toward the stage to get closer to Searcy. At one point during the night, he asked students to tie his untied shoelace. Using witty banter throughout the night, he charmed the audience with a down-to-earth approach. Just as Searcy finished his set, students chanted until he came up to perform another song on the keys.
After the performance, students stayed to take pictures with Searcy and socialize. Junior engineering major Ryan Miele commented on the performance.
"We have not seen live music in a while just because of concerts getting canceled over COVID," Miele said. "So on campus, it's nice to see a live band outside of chapels."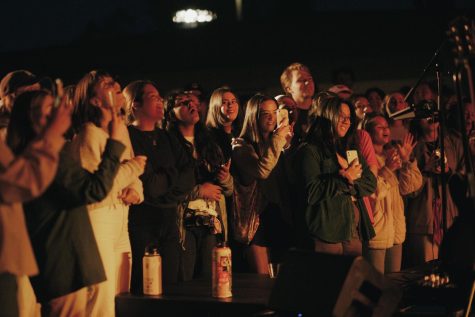 Junior communication studies major Ryan Colombe chimed in, mentioning his love of live events and music, especially for campus engagement. 
"I didn't get to experience the first [Eddy] because I wasn't fully aware of it," Colombe said. "But I am coming back every year even after graduation. I think this is just such a cool small environment that you get to just be with your friends and get hype for whoever is performing."