CMR and Student Development partner hold self-defense seminar
Students learn tactics of de-escalation and self-defense.
Biola's Center for Marriage and Relationships and Student Development are hosting events for Sexual Assault Awareness Month coordinated with the support of Title IX coordinator Nallely Lopez. On April 13, the two put on a self-defense seminar led by professor of communication and black belt in Kung Fu Tim Muehlhoff. Muehlhoff is a certified defensive tactics instructor and teaches a one credit class at Biola called Weaponless Self-Defense.
According to Muehlhoff, 90% of self-defense is verbal and they taught de-escalation tactics at the event. In addition to the self-defense seminar, CMR and Student Development hosted a panel last week about recognizing unhealthy relationships. He explained that while Biola is a relatively safe campus, it is important to learn these skills for the future.
Muehlhoff became involved with martial arts in high school, where he was introduced to Christ. After taking a break from Kung Fu he eventually found his way back into a dojo where he recently received his black belt. Muehlhoff shifted to krav maga where he was connected to OC United, a non-profit organization focused on "restorative care."
"[They] invited me to do verbal de-escalation, physical training and [help identify] what's the cycle of violence that women need to be aware of and stuff like that," Muehlhoff said.
Muehlhoff pointed students to the resources available at CMR and the Title IX office.
THE EVENT
The event contained three major sections, general tips, de-escalation and physical self-defense. 
Muehlhoff started the workshop by explaining some key principles—the first being shark hours. Shark hours, he explained, are the hours during the day when de-escalation should not be considered, such as late nights and early mornings. Muehlhoff recommended purchasing mace for self-defense and practicing with fake mace so that users are prepared if the situation arises.
Muehlhoff highlighted the importance of de-escalation to self-defense. Starting with breathing techniques Muehlhoff emphasized the importance of getting separation for the situation emotionally and physically. He explained that it is important to assess a situation that could potentially become violent as well as understanding basic de-escalation tactics.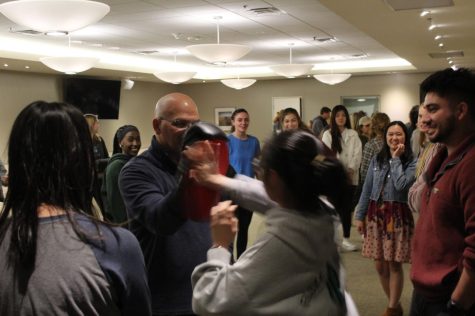 One move that Muehlhoff introduced during this time was a self-defense stance where users protected their face and braced themselves for impact.
Muehlhoff displayed a palm strike, a quick strike that keeps users from breaking their fingers the way a punch would. Next, Muehlhoff displayed how to block moves which come from around the sides rather than directly.
Attendees practiced these moves on Muehlhoff and his helpers who used pads to guide the practice. Finally, Muehlhoff displayed how to use mace by having a student use a practice mace filled with water in the room.