CMR sponsors Valentine's Day event
The Center for Marriage and relationships hosted a special event for survivors of sexual assault.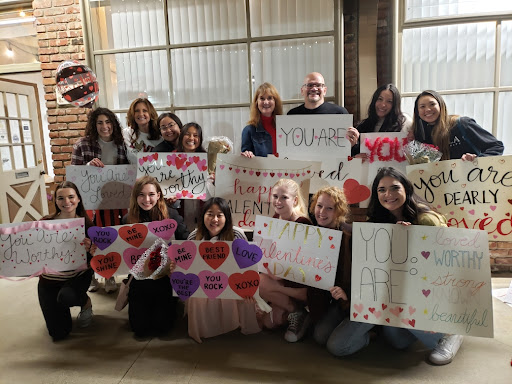 The Valentine's is for Everyone event was held on Feb. 14 for female victims of sexual assault. Biola's Center for Marriage and Relationships, OC United, Trader Joe's and St. Jude Hospital sponsored the event. According to Co-Director Alisa Grace from CMR, the purpose was to take a normally painful holiday for these women and give them a gift of love from others. 
Due to the pandemic, organizers hosted a drive-thru and indoor option for the 30 women who attended. Trader Joe's donated 50 red rose bouquets, CMR hired a therapeutic masseuse from St. Jude Hospital and provided, professor of communication Tim Muehlhoff's book "Eyes to See:Recognizing God's Grace in an Uncertain World." 
Biola students who volunteered for the event constructed handwritten cards, held up encouraging signs and conversed with the women. 
THE IMPACT
In appreciation of those who helped in the event, Donna Mroz, director of OC United Domestic Abuse Support Group Initiative told Biola students "You don't understand how what you're doing tonight will impact these women for years."
Students who want to be involved in future CMR events can contact [email protected]biola.edu for more information. The CMR will add students to a contact list with updates on future events.