Preview for 'Miss Bennett: Christmas in Pemberley'
The beloved movie and novel gets a sequel this season at Biola's Theatre 21.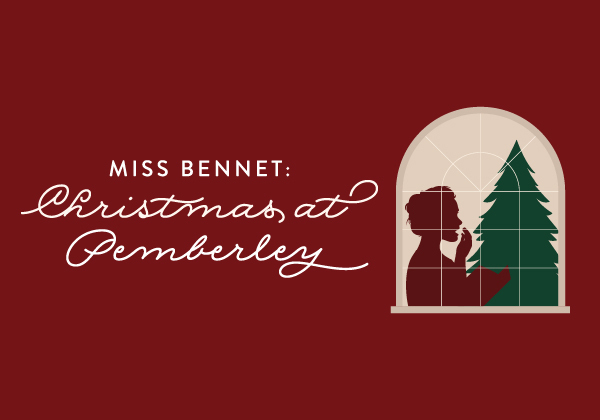 Emily Coffey, Arts and Entertainment Editor
November 18, 2021
Theatre 21's latest production, "Miss Bennett: Christmas at Pemberley" opens this weekend on Nov. 19. Here is a behind-the-scenes look at the production, which will run into early December. 
PREMISE 
The play runs as a sequel to the beloved "Pride & Prejudice." It begins when the Bennett sisters meet again for Christmas at the Pemberley estate. It also introduces a new character, Arthur De Bourgh, a distant cousin of Mr. Darcy, who is close with one of the Bennett sisters. Jane Bingley is far along in her pregnancy, while the rest of the sisters are recently married. 
The play re-introduces Lady Catherine De Bourgh's daughter, Anne De Bourgh, who is betrothed to marry Arthur De Bourgh. Tension arises when a love triangle forms again between one of the Bennet sisters, Anne and Arthur. Overall, the play is meant to be a heartwarming story of love, family and friendship, exemplified during the holidays. 
CAST AND CREW 
The cast and crew are excited to welcome audiences back into Theatre 21 for both a dining experience and a traditional theatre experience. After two months of rehearsals, the cast and crew have shifted focus to perfecting the production. 
"I was also in a virtual play, and we missed out on so much of the chemistry and being there and playing off each other," said senior communication studies major Seth Johnson. "And we made it work. We made it work. But now being back on stage, it's so much more rewarding getting to play these characters and interact with other actors and really go for it physically [and] emotionally." 
The rest of the cast shares Johnson's excitement for the coming play. However, the cast experienced a small hiccup in the production. For the entirety of rehearsals, the cast ran lines with masks. They are not used to seeing each other's facial expressions with lines, which could cause laughter to erupt or require them to change their expressions at the last moment. 
"With the precautions when we're putting in place for COVID, none of my cast has seen each other's faces," said director Alicia LeBlanc. "From the nose to chin [for] the entire rehearsal process. The first time they're going to see that is our final rehearsal before opening night." 
While the actors reflected this concern, there is still excitement about the opening night, due to their hard work. LeBlanc highlighted the cast's close bond that has led to a fantastic production experience. 
"I'm really excited for them to have this moment they've worked so hard for. [To] just enjoy it and enjoy each other in a different way. I think it [will] be a unique experience," LeBlanc said.