Blackstone flooding prompts evacuation
Blanket accident triggers sprinkler.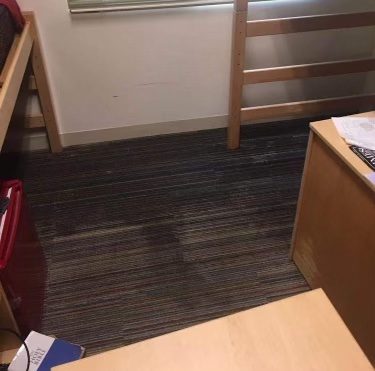 The second floor of Blackstone Hall was flooded with water after a resident's blanket got tangled with a fire sprinkler on the ceiling. As the student attempted to free the blanket, the fire sprinkler was triggered, which set off fire alarms throughout the building. The resulting deluge released water at a rate of 24 to 30 gallons per minute, flooding the second floor and leaking water down to the first floor. 
STUDENT IMPACT
All Blackstone Hall residents were evacuated from their rooms for about an hour before they were permitted to return and get their belongings, according to Blackstone resident Isaiah Harrison. Residents' property sustained minimal damage with the most occurring in the room where the sprinkler was triggered. 
"We don't yet know the extent of the damage or the amount of cleanup that will be required," said maintenance supervisor Eddie Fernandez.
One resident in the damaged room sustained a minor concussion and was treated at the hospital. He was then released and returned to campus. Biola contracted with BluSky Restoration Contractors to clean up the water damage, but it is not clear how long repairs will take.
"All in all, the events were a striking reminder to exercise caution when working near a fire sprinkler, but also a testament to Biola's thorough emergency preparedness, as within hours the long work of cleaning up had already begun," said Blackstone senator Michael McKay.
CLEANUP EFFORTS
Biola campus safety and facilities management teams coordinated efforts to temporarily relocate Blackstone residents from rooms 215-229 to Thompson Hall until repairs are completed.
"We inspected the affected areas and from there we made a collective decision that, pending inspection from outside the company, students in affected rooms need to get a few belongings together. Facilities management provided movers, boxes and a moving truck to move students from Blackstone to Thompson Hall," said Chief of Campus Safety John Ojeisekhoba.