PRISM brought whimsy with a live parking garage performance
This ongoing tradition of 29 years took a pause due to lockdown and regulations, but the PRISM concert gave people optimism once again.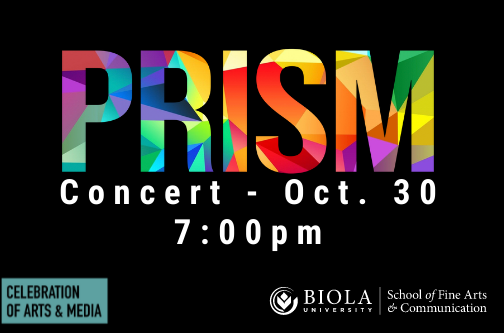 Smooth jazz filled the fifth floor of Lot S on Oct. 30 as a wide variety of people trickled in for the annual PRISM concert. In the past voices filled an auditorium, but the cool night air brought comfort to a memorable night. 
A CAUSE FOR CELEBRATION
Timed perfectly for parents weekend, a large crowd gathered outside to watch students perform once again. After a year of performing concerts online, the music reflected a feeling of celebration to return to in person events.
With upbeat rhythms and lyrics, various musical performers showcased their skills. The setlist included brass ensembles, a symphony orchestra, the university chorus and chorale, horn quintet, jazz ensemble and combo, soloists and the symphonic winds. 
SOLOISTS
Junior music composition major Kobe Burton performed a solo of "Lieben, Hassen, Hoffen, Zagen" from Ariadne auf Naxos. This German song shared an abundance of emotions in lyrics and tone. 
Before  the pandemic, Burton was a freshman. Now a junior and one of the three soloists of the night to perform, his presentation showed refreshing confidence. 
 "It doesn't feel like I'm a junior," Burton said. "All the people who were here before all graduated and now half the school hasn't been here before. It's been interesting stepping into some leadership roles." 
One of the soloists, senior music major Mehki Key, gave the audience a classic musician performance. Key performed an acoustic original piece titled "Tell Me Why" that can be found on multiple listening platforms including Spotify. 
THE JAZZ WE NEED
The Jazz performance proved impactful to the audience. Feet tapped and heads bobbed as the Jazz Ensemble and Jazz Combo performed for the night. For a second, the pain of last year was wiped away as the Jazz Combo played "September in the Rain." The night sky filled with the complex harmonies of the saxophone, piano, bass, guitar and drums. 
Senior interdisciplinary studies major Camryn Verduzco said that the night was a great first step for the reinstatement of in person musical performances.
"It was kind of magical to be back in person and to see all the hard work that everyone in the Conservatory has been doing," Verduzco said.