Brushfire starts near Fluor Fountain
An electrical fire broke out today in the middle of campus.
A small brushfire broke out at 1 p.m. on Biola's campus near Fluor Fountain. While some students attempted to put out the fire, others jokingly alluded to the story of Moses and the burning bush.
CAUSE OF FIRE 
According to Chief of Campus Safety John Ojeisekhoba, the fire was an electrical fire caused by an extension cord running from the Student Union Building to the temporary chapel location in Lot F. 
Sophomore cinema and media arts major Natalie Maljian was near Common Grounds when the fire started. She recounted hearing crackling, "like someone was lighting a firework." From where she was sitting she watched the bush catch fire.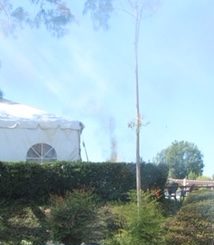 Junior nursing major Independence Whitmack said that other students were trying to use water from the Caf, as well as their water bottles to put out the fire.
RESPONSE
Campus Safety was first on the scene and used seven fire extinguishers to put out the fire. The fire department was not far behind and confirmed that the situation was handled, according to Ojeisekjoba.
Biola posted an announcement to its Instagram story which recapped the event and assured students that campus was safe. The announcement requested students stay away from the "bookstore area next to Flour Fountain." At the time of Biola's initial story post, the cause was still unknown.