Biola sees a decrease in female transfer students
Transfer enrollment rates drop across higher education.
During the 2020–2021 school year, Biola admitted 100% of transfer applicants and 53% enrolled for the fall semester. On Aug. 31, a report released by the National Student Clearinghouse Research Center found that college transfer enrollment rates dropped by 7.9% this spring.
While female upward transfer rates increased in the spring, according to the report, Biola saw a substantial decrease in female applicants.
WANING APPLICANTS
Transfer admissions at Biola dropped from 890 applications during the 2019–2020 school year to 512 applications during the 2020–2021 school year, according to the Biola Common Data Set.
According to Higher Ed Dive, this is not an isolated incident. Across the nation, institutions of higher education lost nearly 200,000 transfer students. This staggering number signals a three-fold decrease in transfer admissions compared to pre-pandemic numbers. 
GENDER DISPARITY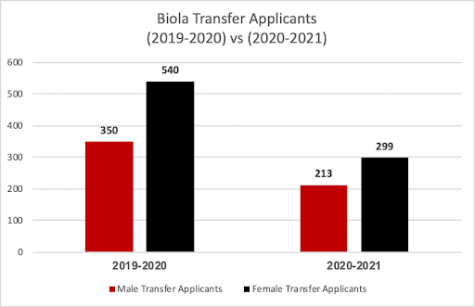 Gender disparities across higher education are stark, with the decline in male transfer enrollment rates more than doubling the rates of their female counterparts, according to the NSCRC report. Conversely, Biola saw women's transfer rates decrease by 14.5% compared to the 2019 pre-pandemic semester.
The number of women applying dropped significantly, with 540 women applying in years past and only 299 applying this year, signifying a 44.6% drop, whereas the number of male applicants dropped by 39.1%. 
RECRUITING TRANSFERS
Enrollment management teams are "laser focused" on recruiting transfer students, Associate Director of Transfer Admissions Angela Barragan explained in an email. She explained that 25% of traditional undergraduate students are transfer students and anticipates growth as Biola continues to focus on transfer services. 
Barragan expects Biola's intentional plans to improve its transfer services will increase enrollment in the future. She noted that transfer enrollment this fall is on pace with the 2019–2020 school year, signaling a return to normalcy.