Bardwell Hall opens early for faculty in its late stages of construction
Professors are moving into the newly constructed art building after almost a year.
Emily Coffey, Deputy Arts and Entertainment Editor
March 18, 2021
Over the past year, construction on the new Bardwell Hall has been at a stop and go thanks to COVID-19. But this week, a Facebook live event showed the nearly finished building, and faculty are beginning to move into their new studios from the old McNally halls. 
WHAT STUDENTS CAN EXPECT 
Posters hung from the fence of the newly-constructed Bardwell Hall promise a new computer lab, senior art studios and a public critique space. The building also includes a rooftop terrace that will be a place for music and performances. 
The building's construction takes a modern approach, better suited for art classrooms. Astri Swensdrud, associate professor of art, commented on the aesthetics. 
"In an office building you might want some interesting architectural features or interesting textures or color schemes to keep a place looking visually interesting," Swensdrud said. "As an art building we want the building to be sort of a blank slate…there aren't any details that will be taking away from what our students are creating in that space."
Formerly housed in McNally, the art department formerly resided in remodeled classrooms. The new building is tailored toward the unique needs of an art department. These needs are met through strategically designed plumbing, spaces for digital creation and classrooms that feature enough spaces for material creation as well.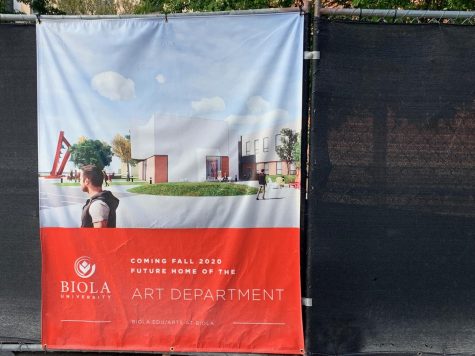 BRANCHING OUT & COMING IN 
The location of the new department also plays a key role in the excitement. In a central location next to the cafeteria and across from the current art gallery, the new building will be a place for students of all majors to gather around a community of artists. Chair of the art department, Jonathan Puls, mentioned the community-building aspect of the design. 
"We wanted to build the building around instruction, but also to support…hanging out," Puls said. 
This community-friendly design includes roll-up garage doors, places to work and hang out and as previously mentioned, the rooftop design. 
The new building also houses space for the newly developing art majors and concentrations like animation, virtual reality and the new game design project as part of cinema and media arts. The programs are meant to mesh well with Cinema and Media Arts, whose building is also in the process of an upgrade. A virtual reality studio and PC lab will be housed in Bardwell, which will finally give students the kind of access they need for projects pertaining to classwork. 
FUNDING AND FURTHER DETAILS
According to Vice President of University Operations and Finance Michael Pierce, the building was funded entirely through a university endowment before the start of COVID-19. Though construction ceased for a while, it is still set to be done in time for the next semester. 
"I think it's gonna be beautiful," said Pierce. "If you had a chance to tour it, it's just gonna be a fabulous opportunity for our students to learn and to really become experts in their craft…[it] is going to be an amazing hub of student activity." 
The university hosted a live walk-through event showing the interior of Bardwell Hall on the evening of March 15, and students are expected to be back in classrooms in the building by Fall 2021. Professors are currently in the process of settling in, though they have only just begun.