Life of a film freelancer during a pandemic
Rebecca Baliko overcomes unique post-graduation challenges starting her film career during COVID-19.
Since graduating during COVID-19, cinema and media arts alumna Rebecca Baliko has been forced to begin a freelancing film career in unusual circumstances. However, she has found the challenges to be a blessing in disguise.
POST-GRAD PROJECTS
Having worked on mostly freelance projects while at Biola, Baliko was able to continue her freelancing career after college as a first assistant camera. She pulls focus, keeps track of camera equipment and helps out the director of photography. 
One of the intriguing aspects of freelancing in the film industry is the wide variety of projects that may offer a position. Since graduating, Baliko has gotten to work on everything from product ads to indie feature films. Her endeavors have included a shoot for Nickelodeon as well as a music video for the song "Want Me to Stay" by the artist Mini Trees. Baliko expressed that the indie features have been her favorite projects to work on due to the intimacy and enthusiasm often surrounding the projects. 
"There's this level of passion with indie shoots that you don't always get once you get to the commercial world or larger productions," Baliko said. "There's just something very magical and intimate about indie features."
COVID-19 CHALLENGES
Freelancing during a pandemic comes with a unique set of obstacles. Baliko stated multiple projects have met the unfortunate fate of falling through the cracks or being placed on the back burner. Especially after the states shut down in March and film productions quickly followed, finding work proved difficult for some time.
"It was definitely really trying for a couple months and kind of just trusting God," Baliko said.  "It's been a crazy adventure but he has provided."
Additionally, Baliko came to Los Angeles to pursue a film career from Canada, which has added another interesting set of challenges to her plate. She is not a permanent resident in the United States, which comes with frustrating work limitations. However, Baliko expressed that the biggest challenge is the distance from her family, especially during the pandemic.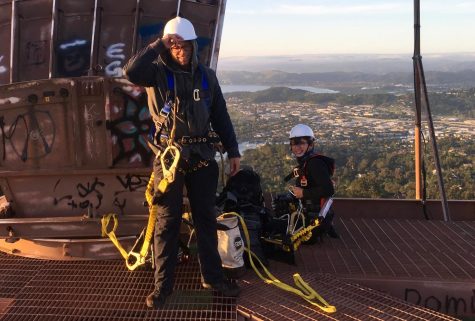 BLESSINGS IN DISGUISE
Although struggles have presented themselves in plenty, Baliko has also experienced blessings in multiple senses while working in LA. When COVID-19 hit, many people returned to their homes in different states, but Baliko stayed in the Los Angeles area. After the initial pandemic shock passed and productions started up again, more job opportunities opened up for her.
"I ended up being one of the few ACs in our circle that was still in LA," Baliko said. "So, I ended up getting more work as the summer went on, which was the biggest blessing."
Graduating from Biola has also given Baliko a wide, reliable network of connections in the industry, which makes finding work more attainable. Her professors in the cinema and media arts program were always supportive and eager to help and she continues to work with her friends and former classmates.
"Even at the really random gigs where I don't know anyone on set, I can always trace the connection back to someone I met at Biola," Baliko said.
In the coming months, Baliko hopes to expand her network and obtain her work visa so that she can continue to work full-time in the United States on bigger projects with her friends.