Fall in love with this Valentine's Day Watchlist
With one day until Valentine's Day in the middle of quarantine, there is no better time to binge these seven romantic movies.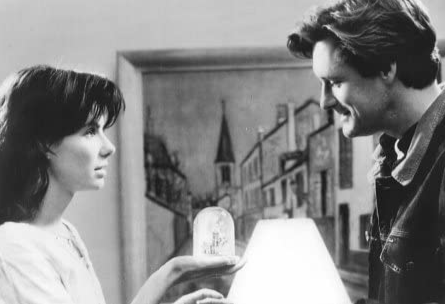 Valentine's Day is filled with mixed emotions for many. Often, lovers and single people alike resort to the classics such as, "Titanic," "The Notebook" or "To All The Boys I've Loved Before." Instead, try out these titles to spice things up this year. 
This 1997 classic follows the story of Alex Whitman played by Matthew Perry and Isabel Fuentes by Salma Hayek, who after spending one night together decide to get married due to an unexpected pregnancy. This love story follows the journey of what it truly means to commit to someone and learning how to embrace different cultures in relationships. This romantic comedy can be rented on Amazon. 
This romcom takes place in New York City, and follows the hopeful fate of Jonathan Trager and Sara Thomas played by John Cusack and Kate Beckinsale. After meeting each other while Christmas shopping, Jonathan asks for Sara's number, but she declines, saying that fate will step in if they are meant to be together. Sara suggests that one of them should put their name and phone number on a $5 bill and the other on at the end of a book. She believes that if someday they find these items, then it was meant to be. Five years later on Jonathan's wedding day to another woman, signs of Sara show up everywhere and he wonders if he was really meant to be with her. "Serendipity" can be found on Amazon Prime and YouTube for rent. 
A woman who lives a lonely life and works at a train station falls for a man named Peter, who she has never spoken to. One day, Peter, played by Peter Gallagher, almost gets hit by a train, but Lucy, played by Sandra Bullock, saves his life. Upon his family's arrival at the hospital, they believe she is the fiancé and she is caught in a lie. Everyday Peter is in a coma, Lucy falls in love with his family. The desire to be loved and finally finding love races throughout this movie and it can be found on Disney+. 
Zac Efron plays Mike O'Donnell in the 2009 release of "17 Again." Mike bears a number of predicaments, but when he is turned back into his 17-year-old self, he gets to view his life from a different perspective. He gets to go to high school with his children and learn more about his wife who he is about to divorce. With similar themes to "It's A Wonderful Life," this modern day story takes a look at the teenager life, marriage and much more. Efron's movie can be streamed on Netflix. 
This Disney Channel feature film, modeled after the show Lizzie McGuire, hit theaters in 2003. After graduating from middle school McGuire and her classmates take a trip to Rome, where she gets mistaken for being Isabella, an international pop star. Isabella's ex-partner Paolo meets Lizzie and takes her on dreamy adventures throughout the city. The end takes a twist when Paolo's motives are questioned. This can be streamed on Disney+. 
Released in 2019, the seventh book adaptation of Little Women leaves viewers with whimsical feelings of first love and heartbreak. This movie follows the lives of the March sisters through the trials of being women in the 19th century. Each sister gets their own storyline. Emma Watson, Florence Pugh, Eliza Scanlen, Timothée Chalamet and Laura Dern all star in this film, while Jo played by Saoirse Ronan is the main character. "Little Women" can be found on Amazon Prime and Hulu. 
This movie proves that true love does not need to be romantic. "Safety" follows the story of a boy named Ray-Ray McElrathbey, played by Jay Reeves. Ray's mother is struggling with drug addiction and has left her other son Fahmarr to take care of himself. While trying to maintain his football scholarship at Clemson University, Ray secretly hides and takes care of Fahmarr played by Thaddeus J. Mixson. While involved in football, taking on 18 credits and working, Ray never loses sight of what is most important to him: his brother. This Disney+ film, inspired by a true story, shows love through family, friendships and mentors.